Lightweight Polyurethane Wheels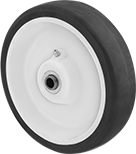 The polypropylene core makes these wheels lighter and more corrosion resistant than iron-core wheels without sacrificing capacity. Their polyurethane tread combines the abrasion resistance of plastic with the shock-absorbing qualities of rubber. Use them on smooth or rough floors and in areas with debris.
Sleeve bearings prevent wear to the wheel bore but don't roll as easily as other bearings. Roller bearings provide smoother rolling than sleeve bearings.
Firm wheels have higher capacities than soft wheels but absorb less shock.
For technical drawings and 3-D models, click on a part number.
Dia.

Wd.

Hub


Lg.

Cap.

per


Wheel,




lbs.

Hardness
Nonmarking
Wheels
Seal
Type
Material
Style
Material

Temp.




Range,




°F

For
Axle


Dia.

Each

With Sleeve Bearings

3"

15/16

"
1"
120
Durometer 85A
Yes
Open
Acetal Plastic
Solid
Polypropylene Plastic
-20° to 180°

5/16

"
0000000
00000
4"

15/16

"
1

1/8

"
130
Durometer 85A
Yes
Open
Acetal Plastic
Solid
Polypropylene Plastic
-20° to 180°

5/16

"
0000000
00000
5"

15/16

"
1

1/8

"
140
Durometer 85A
Yes
Open
Acetal Plastic
Solid
Polypropylene Plastic
-20° to 180°

5/16

"
0000000
00000

With Roller Bearings

4"
1

1/2

"
1

13/16

"
300
Durometer 85A
Yes
Open
Steel
Solid
Polypropylene Plastic
-20° to 180°

3/8

"
0000000
00000
4"
2"
2

5/16

"
500
Durometer 85A
Yes
Open
Steel
Solid
Polypropylene Plastic
-20° to 180°

1/2

"
0000000
00000
5"
1

1/2

"
2"
350
Durometer 85A
Yes
Open
Steel
Solid
Polypropylene Plastic
-20° to 180°

1/2

"
0000000
00000
5"
2"
2

5/16

"
600
Durometer 85A
Yes
Open
Steel
Solid
Polypropylene Plastic
-20° to 180°

1/2

"
0000000
00000
6"
1

1/2

"
2"
420
Durometer 85A
Yes
Open
Steel
Solid
Polypropylene Plastic
-20° to 180°

1/2

"
0000000
00000
6"
2"
2

5/16

"
600
Durometer 85A
Yes
Open
Steel
Solid
Polypropylene Plastic
-20° to 180°

1/2

"
0000000
00000
8"
2"
2

5/16

"
800
Durometer 85A
Yes
Open
Steel
Solid
Polypropylene Plastic
-20° to 180°

1/2

"
0000000
00000
8"
3"
3

3/8

"
1,300
Durometer 85A
Yes
Open
Steel
Solid
Polypropylene Plastic
-20° to 180°

3/4

"
0000000
00000
10"
2

1/2

"
2

13/16

"
1,300
Durometer 85A
Yes
Open
Steel
Solid
Polypropylene Plastic
-20° to 180°

3/4

"
0000000
00000
12"
3"
3

3/8

"
1,900
Durometer 85A
Yes
Open
Steel
Solid
Polypropylene Plastic
-20° to 180°

3/4

"
0000000
000000

With Sleeve Bearings

3"

15/16

"
1"
140
Durometer 95A
Yes
Open
Acetal Plastic
Solid
Polypropylene Plastic
-20° to 180°

5/16

"
0000000
0000
4"

15/16

"
1

1/8

"
150
Durometer 95A
Yes
Open
Acetal Plastic
Solid
Polypropylene Plastic
-20° to 180°

5/16

"
0000000
00000
5"

15/16

"
1

1/8

"
160
Durometer 95A
Yes
Open
Acetal Plastic
Solid
Polypropylene Plastic
-20° to 180°

5/16

"
0000000
00000

With Roller Bearings

4"
1

1/2

"
1

13/16

"
400
Durometer 95A
Yes
Open
Steel
Solid
Polypropylene Plastic
-20° to 180°

3/8

"
0000000
00000
4"
2"
2

5/16

"
600
Durometer 95A
Yes
Open
Steel
Solid
Polypropylene Plastic
-20° to 180°

1/2

"
0000000
00000
5"
1

1/2

"
2"
500
Durometer 95A
Yes
Open
Steel
Solid
Polypropylene Plastic
-20° to 180°

1/2

"
0000000
00000
5"
2"
2

5/16

"
700
Durometer 95A
Yes
Open
Steel
Solid
Polypropylene Plastic
-20° to 180°

1/2

"
0000000
00000
6"
1

1/2

"
2"
560
Durometer 95A
Yes
Open
Steel
Solid
Polypropylene Plastic
-20° to 180°

1/2

"
0000000
00000
6"
2"
2

5/16

"
820
Durometer 95A
Yes
Open
Steel
Solid
Polypropylene Plastic
-20° to 180°

1/2

"
0000000
00000
8"
2"
2

5/16

"
1,000
Durometer 95A
Yes
Open
Steel
Solid
Polypropylene Plastic
-20° to 180°

1/2

"
0000000
00000
8"
3"
3

3/8

"
2,200
Durometer 95A
Yes
Open
Steel
Solid
Polypropylene Plastic
-20° to 180°

3/4

"
0000000
00000
10"
2

1/2

"
2

13/16

"
1,500
Durometer 95A
Yes
Open
Steel
Solid
Polypropylene Plastic
-20° to 180°

3/4

"
0000000
00000
12"
3"
3

3/8

"
2,200
Durometer 95A
Yes
Open
Steel
Solid
Polypropylene Plastic
-20° to 180°

3/4

"
0000000
000000