Long-Lasting

Nylon Wheels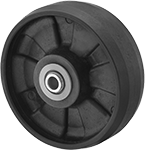 These glass-filled nylon wheels are impact and wear resistant. They are more durable than other nylon wheels. They work well on smooth surfaces.
Roller bearings provide smooth rolling. Ball bearings are the easiest to roll. They are completely sealed for the best protection against dust and debris.
For technical drawings and 3-D models, click on a part number.
Dia.

Wd.

Hub


Lg.

Cap.

per


Wheel,




lbs.

Hardness
Nonmarking
Wheels
Seal
Type
Material
Wheel
Core
Style

Temp.




Range,




°F

For
Axle


Dia.

Each

With Roller Bearings

4"
2"
2

7/16

"
800
Durometer 85D
Yes
Open
Steel
Solid
-40° to 250°

1/2

"
0000000
000000
5"
2"
2

7/16

"
1,000
Durometer 85D
Yes
Open
Steel
Solid
-40° to 250°

1/2

"
0000000
00000
6"
2"
2

7/16

"
1,200
Durometer 85D
Yes
Open
Steel
Solid
-40° to 250°

1/2

"
0000000
00000
8"
2"
2

7/16

"
1,400
Durometer 85D
Yes
Open
Steel
Solid
-40° to 250°

1/2

"
0000000
00000

With Ball Bearings

4"
2"
2

7/16

"
800
Durometer 85D
Yes
Sealed
Steel
Solid
-40° to 250°

1/2

"
0000000
00000
5"
2"
2

7/16

"
1,000
Durometer 85D
Yes
Sealed
Steel
Solid
-40° to 250°

1/2

"
0000000
00000
6"
2"
2

7/16

"
1,200
Durometer 85D
Yes
Sealed
Steel
Solid
-40° to 250°

1/2

"
0000000
00000
8"
2"
2

7/16

"
1,400
Durometer 85D
Yes
Sealed
Steel
Solid
-40° to 250°

1/2

"
0000000
00000