Low-Profile

Casters with Polyurethane Wheels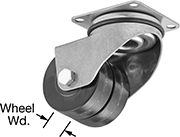 Dual-Wheel
with Square Mounting Plate

Single Wheel with Square Mounting Plate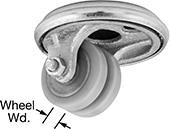 Dual-Wheel
with Round Mounting Plate



These casters have some of the lowest mount heights in their capacity range. They have abrasion-resistant polyurethane wheels. Use them on smooth or rough floors and in areas with debris.
Dual-wheel casters provide better load distribution and easier turning than single-wheel casters.
Tread-on-core wheels have a metal core that is harder than the tread, balancing strength with cushioning.
Firm wheels are shock absorbing. Hard wheels are impact resistant.
Casters without wheel bearings have a wheel that rides directly on the axle, making them an economical choice for equipment not frequently moved. Casters with ball bearings are the easiest to roll.
Swivel casters with ball bearings have smooth swiveling. Swivel casters with double-ball bearings have the smoothest swiveling.
Shielded bearings protect from dust and debris. Sealed bearings are completely sealed for the best protection against dust and debris.
For technical drawings and 3-D models, click on a part number.
Swivel
Dia.

Wd.

No.


of
Mount


Ht.

Cap.

per


Caster,




lbs.

Hardness
Type
Seal
Type
Material
Frame
Material
Type
Seal
Type
Performance
Properties
Each

Nonmarking Blue

Solid—

Hard

2

1/2

"
1"
2
3

3/8

"
500
Durometer 75D
Ball
Shielded
Steel
301 Stainless Steel
Double Ball
Sealed
__
0000000
000000

Nonmarking Brown

Tread-on-Core—

Firm

1

3/8

"
1

1/16

"
1
2

1/16

"
220
Durometer 90A
Ball
Sealed
Steel
Zinc-Plated Steel
Double Ball
Sealed
Noise Reducing
0000000
00000

Nonmarking Yellow

Tread-on-Core—

Firm

2"

9/16

"
2
2

1/2

"
350
Durometer 95A
Without Bearing
__
__
Zinc-Plated Iron
Ball
Open
__
0000000
00000