Oil-Resistant

Rubber Wheels

Solid

Tread on Solid Core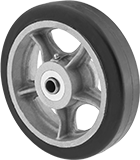 Tread on Spoked Core

These neoprene rubber wheels won't degrade when they come into contact with oil, mild acids, and solvents. They are just as shock absorbing as other rubber wheels but are more resilient. Use them on smooth or rough surfaces.
Tread-on-core wheels have a core that is harder than the tread, balancing strength with cushioning.
Sleeve bearings prevent wear to the wheel bore but don't roll as easily as other bearings. Roller bearings provide smoother rolling than sleeve bearings. Ball bearings are the easiest to roll.
Shielded bearings protect from dust and debris.
For technical drawings and 3-D models, click on a part number.
Wheel
Type

Dia.

Wd.

Hub


Lg.

Cap.

per


Wheel,




lbs.

Hardness
Nonmarking
Wheels
Seal
Type
Material
Style
Material

Temp.




Range,




°F

Choose
For Axle


Dia.

Each

With Sleeve Bearings

Solid
2

1/2

"
1

1/4

"
1

1/2

"
200
Durometer 80A
No
Shielded
Acetal Plastic
Solid
__
-20° to 180°

3/8

"
0000000
000000
Solid
3

1/2

"
1

1/4

"
1

1/2

"
200
Durometer 80A
No
Shielded
Acetal Plastic
Solid
__
-20° to 180°

3/8

"
0000000
00000

With Roller Bearings

Tread on Core
4"
1

1/2

"
2"
200
Durometer 70A
No
Open
Steel
Solid
Aluminum
-40° to 120°

1/2

"
0000000
00000
Tread on Core
5"
1

1/2

"
2"
240
Durometer 70A
No
Open
Steel
Solid
Aluminum
-40° to 120°

1/2

"
0000000
00000
Tread on Core
6"
1

1/2

"
2"
280
Durometer 70A
No
Open
Steel
Solid
Aluminum
-40° to 120°
0000000
00000
Tread on Core
6"
2"
2

1/2

"
410
Durometer 70A
No
Open
Steel
Solid
Aluminum
-40° to 120°
0000000
00000
Tread on Core
8"
2"
2

1/2

"
500
Durometer 70A
No
Open
Steel
Solid
Aluminum
-40° to 120°
0000000
000000
Tread on Core
10"
2

1/2

"
3"
790
Durometer 70A
No
Open
Steel
Spoked
Aluminum
-40° to 120°

3/4

"
0000000
000000

With Ball Bearings

Solid
2"

7/8

"
1"
110
Durometer 80A
No
Open
Steel
Solid
__
-20° to 180°

3/8

"
0000000
0000
Solid
2

1/2

"

7/8

"
1"
110
Durometer 80A
No
Open
Steel
Solid
__
-20° to 180°

3/8

"
0000000
00000
Solid
2

1/2

"
1

1/4

"
1

1/2

"
200
Durometer 80A
No
Shielded
Steel
Solid
__
-20° to 180°

3/8

"
0000000
00000
Solid
3"

7/8

"
1

1/8

"
120
Durometer 80A
No
Shielded
Steel
Solid
__
-20° to 180°

5/16

"
0000000
00000
Solid
3"
1

1/4

"
1

1/2

"
200
Durometer 80A
No
Shielded
Steel
Solid
__
-20° to 180°

3/8

"
0000000
00000
Solid
4"

7/8

"
1

1/8

"
120
Durometer 80A
No
Shielded
Steel
Solid
__
-20° to 180°

5/16

"
000000
00000
Solid
4"
1

1/4

"
1

1/2

"
200
Durometer 80A
No
Shielded
Steel
Solid
__
-20° to 180°

3/8

"
000000
00000
Solid
5"
1

1/4

"
1

1/2

"
200
Durometer 80A
No
Shielded
Steel
Solid
__
-20° to 180°

3/8

"
000000
00000

With Sleeve Bearings

Solid
2

1/2

"
1

1/4

"
1

1/2

"
250
Durometer 90A
No
Shielded
Acetal Plastic
Solid
__
-20° to 180°

3/8

"
0000000
00000
Solid
3

1/2

"
1

1/4

"
1

1/2

"
250
Durometer 90A
No
Shielded
Acetal Plastic
Solid
__
-20° to 180°

3/8

"
0000000
00000

With Ball Bearings

Solid
2"

7/8

"
1"
120
Durometer 90A
No
Open
Steel
Solid
__
-20° to 180°

3/8

"
0000000
00000
Solid
2

1/2

"

7/8

"
1"
120
Durometer 90A
No
Open
Steel
Solid
__
-20° to 180°

3/8

"
0000000
00000
Solid
2

1/2

"
1

1/4

"
1

1/2

"
250
Durometer 90A
No
Shielded
Steel
Solid
__
-20° to 180°

3/8

"
0000000
00000
Solid
3"

7/8

"
1

1/8

"
130
Durometer 90A
No
Shielded
Steel
Solid
__
-20° to 180°

5/16

"
0000000
00000
Solid
3"
1

1/4

"
1

1/2

"
250
Durometer 90A
No
Shielded
Steel
Solid
__
-20° to 180°

3/8

"
0000000
00000
Solid
3

1/2

"
1

1/4

"
1

1/2

"
250
Durometer 90A
No
Shielded
Steel
Solid
__
-20° to 180°

3/8

"
0000000
00000
Solid
4"

7/8

"
1

1/8

"
130
Durometer 90A
No
Shielded
Steel
Solid
__
-20° to 180°

5/16

"
000000
00000
Solid
4"
1

1/4

"
1

1/2

"
250
Durometer 90A
No
Shielded
Steel
Solid
__
-20° to 180°

3/8

"
000000
00000
Solid
5"
1

1/4

"
1

1/2

"
250
Durometer 90A
No
Shielded
Steel
Solid
__
-20° to 180°

3/8

"
000000
00000