Open-Platform

Steel Dollies
The open design makes these dollies not only lighter than solid-platform dollies, but also easier to carry. They are made of steel to handle tough environments. All have four swivel casters for easy maneuvering.
Style A has reinforced corners for strength and vinyl end caps to protect walls and furniture from damage. The rubber wheels absorb shock, are quiet, and roll over all surfaces.
Style B have a protective plastic coating on the ends for a nonskid, nonmarring contact surface. Their lightweight polypropylene wheels roll best on smooth surfaces.
Style C have extra cross braces to withstand abuse. They have an eye for attaching a pulling handle (sold separately). Their iron wheels roll best on smooth surfaces but are noisy.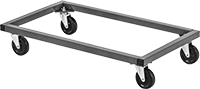 A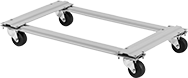 B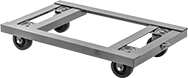 C
Style

O'all




Cap.,




lbs.

Lg.

Wd.

Ht.

Lg.

Wd.

Brake
Type
Caster
Mount
Type

Dia.

Material
Type
Each
Each
A
400
25"
15"
4

3/4

"
23"
13"
None
Replaceable
3"
Rubber
Solid
000000
000000
000000
00

Smooth

Platform—

Raised Ends

B
1,000
36"
24"
4

3/8

"
28

1/8

"
17

1/4

"
None
Replaceable
3"
Polypropylene Plastic
Solid
000000
000000
000000
00

Steel Body and Iron Frame

C
1,600
30"
18"
5

1/2

"
16

1/8

"
14"
None
Permanent
4"
Rubber
Solid
000000
000000
000000
00
C
1,600
36"
24"
5

1/2

"
22

1/8

"
20"
None
Permanent
4"
Rubber
Solid
000000
000000
000000
00
C
2,000
30"
18"
5

1/2

"
16

1/8

"
14"
None
Permanent
4"
Iron
Solid
000000
000000
0000000
000000
C
2,000
36"
24"
5

1/2

"
22

1/8

"
20"
None
Permanent
4"
Iron
Solid
000000
000000
0000000
00000