Open-Platform

Wood Dollies
The open design makes these dollies not only lighter than solid-platform dollies, but also easier to carry. Made of wood, they are quieter and more impact-resistant than steel dollies. All have impact- and chemical-resistant polypropylene wheels for easy maneuvering on smooth surfaces.
Carpeted ends protect loads from damage.
Rubber-padded ends provide protection from damage, plus they grip the load to keep it from sliding.
Flush platforms support the load on all four edges.
Platforms with raised ends support the load on two edges.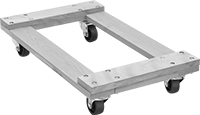 Smooth
Platform-Raised
Ends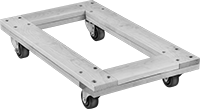 Carpeted
Platform-Raised
Ends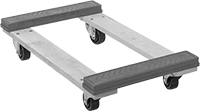 Rubber-Padded
Platform-Raised
Ends
O'all




Cap.,




lbs.

Lg.

Wd.

Ht.

Lg.

Wd.

Wheel
Configuration
Brake
Type
Number
of Wheel
Brakes
Caster
Mount
Type

Dia.

Material
Type
Each

Smooth

Platform—

Raised Ends

1,500
24"
16"
8"
18

3/4

"
9

1/2

"
Four Swivel Casters
Wheel Brake

4
Replaceable
5"
Polypropylene Plastic
Solid
00000000
0000000
1,500
30"
18"
8"
24

3/4

"
10

3/4

"
Four Swivel Casters
Wheel Brake

4
Replaceable
5"
Polypropylene Plastic
Solid
0000000
000000
1,500
36"
24"
8"
30

3/4

"
17

1/2

"
Four Swivel Casters
Wheel Brake

4
Replaceable
5"
Polypropylene Plastic
Solid
0000000
000000
1,500
24"
16"
8"
17"
9

1/2

"
Four Swivel Casters
Wheel Brake

4
Replaceable
5"
Polypropylene Plastic
Solid
00000000
000000
1,500
30"
18"
8"
23"
11

1/2

"
Four Swivel Casters
Wheel Brake

4
Replaceable
5"
Polypropylene Plastic
Solid
0000000
000000
1,500
36"
24"
8"
29"
17

1/2

"
Four Swivel Casters
Wheel Brake

4
Replaceable
5"
Polypropylene Plastic
Solid
0000000
000000
1,500
42"
42"
8"
35"
35

1/2

"
Four Swivel Casters
Wheel Brake

4
Replaceable
5"
Polypropylene Plastic
Solid
0000000
000000

Carpeted

Platform—

Raised Ends

1,500
24"
16"
8"
18

3/4

"
9

1/2

"
Four Swivel Casters
Wheel Brake

4
Replaceable
5"
Polypropylene Plastic
Solid
00000000
000000
1,500
30"
18"
8"
24

3/4

"
11

1/2

"
Four Swivel Casters
Wheel Brake

4
Replaceable
5"
Polypropylene Plastic
Solid
0000000
000000
1,500
36"
24"
8"
30

3/4

"
17

1/2

"
Four Swivel Casters
Wheel Brake

4
Replaceable
5"
Polypropylene Plastic
Solid
0000000
000000

Rubber-Padded

Platform—

Raised Ends

1,500
30"
18"
8

1/4

"
24

3/4

"
11

1/2

"
Four Swivel Casters
Wheel Brake

4
Replaceable
5"
Polypropylene Plastic
Solid
0000000
000000