Pneumatic Casters with Rubber Wheels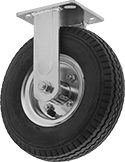 Rigid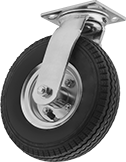 Swivel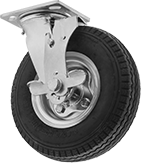 Swivel with Brake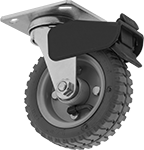 Swivel with Total Lock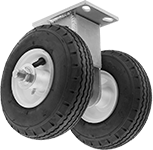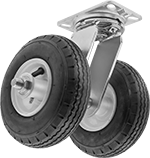 The air-filled wheels on these casters absorb shock to protect your load even on rough surfaces.
Dual-wheel casters provide better load distribution and easier turning than single-wheel casters.
Casters with wheel brake apply pressure to the wheel to stop movement with a press of the foot pedal. Casters with total lock brake the wheel and lock the swivel with one press of the foot pedal.
Forged-steel frames are more durable than formed-steel and stamped-steel frames.
Roller wheel bearings provide smooth rolling and can be used for towing. Ball bearings are the easiest to roll.
Swivel casters with ball/tapered roller bearings provide easy swiveling and good impact resistance. Swivel casters with double-ball bearings have the smoothest swiveling.
Shielded bearings protect the bearing from dust and debris. Sealed bearings are completely sealed for the best protection against dust and debris.
For technical drawings and 3-D models, click on a part number.