Samson Casters with Polyurethane Wheels

Rigid

Swivel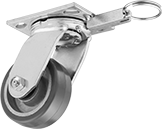 Swivel with Swivel Lock

Swivel with Total Lock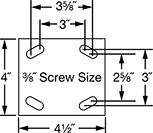 These are good general purpose casters designed for moderately heavy loads. Wheels have a metal hard core for strength with an abrasion-resistant, nonmarking polyurethane tread. Use them on smooth or rough floors and in areas with debris.
These casters have roller wheel bearings for smooth rolling.
Firm wheels are shock absorbing. Hard wheels are impact resistant.
Swivel casters have double-ball bearings for the smoothest swiveling.
Casters with swivel lock prevent the caster from swiveling with a twist of the ring. Casters with total lock brake the wheel and lock the swivel with one press of the foot pedal.
Add optional wheel brakes to prevent the caster from rolling. To install, replace the wheel's existing bushing with the brake bushing and position the brake pedal so it is parallel to the ground.
Dia.

Wd.

Mount


Ht.

Cap.

per


Caster,

lbs.

Hardness
Type
Material
Each

Rigid

Nonmarking Green Tread on Core

Wheels—

Firm

3

1/4

"
2

3/16

"
4

1/4

"
540
Durometer 95A
Roller
Steel
00000000
000000

Nonmarking Green Tread on Core

Wheels—

Hard

4"
1

1/2

"
5

5/8

"
600
Durometer 60D
Roller
Steel
00000000
00000

Swivel

Nonmarking Green Tread on Core

Wheels—

Firm

3

1/4

"
2

3/16

"
4

1/4

"
540
Durometer 95A
Roller
Steel
00000000
00000

Nonmarking Green Tread on Core

Wheels—

Hard

4"
1

1/2

"
5

5/8

"
600
Durometer 60D
Roller
Steel
00000000
00000

Swivel with Swivel Lock

Nonmarking Green Tread on Core

Wheels—

Firm

3

1/4

"
2

3/16

"
4

1/4

"
540
Durometer 95A
Roller
Steel
000000000
00000

Nonmarking Green Tread on Core

Wheels—

Hard

4"
1

1/2

"
5

5/8

"
600
Durometer 60D
Roller
Steel
000000000
00000

Swivel with Total Lock

Nonmarking Green Tread on Core

Wheels—

Hard

4"
1

1/2

"
5

5/8

"
600
Durometer 60D
Roller
Steel
000000000
00000