Solid-Tread

Flat-Free

Wheels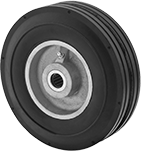 Rubber Tread on Aluminum Core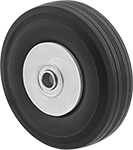 Rubber Tread on Steel Core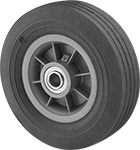 Rubber Tread on Polypropylene Plastic Core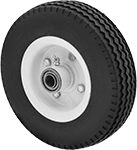 Polyurethane Foam Tread on Steel Core



Straight Line
Tread
Pattern

Wavy Line
Tread
Pattern

Solid Tread Pattern

Arrow Tread Pattern

The thick, solid rubber or polyurethane foam treads provide the cushioned ride of an air-filled pneumatic wheel without the possibility of a flat tire.
Rubber wheels are quiet, shock absorbing, and provide good traction on rough surfaces. Polyurethane foam wheels are lightweight and water- and UV resistant.
Polyurethane foam-filled wheels are lighter than solid rubber wheels.
Roller bearings provide smooth rolling. Ball bearings are the easiest to roll.
Center-mount hubs are symmetrical for equal clearance on both sides of the wheel. Side-mount hubs are offset for extra clearance between the wheel and your equipment.
Lug-fit rims have a series of indentations that line up with the tire's lugs to lock the tire in place so it won't slip on the rim.
Dia.

Wd.

Hub


Lg.

Cap.

per


Wheel,




lbs.

Tread
Pattern
Hardness
Rating
Hardness
Nonmarking
Wheels

Min.

Max.

Features
Choose
For Axle


Dia.

Each

Center-Mount

Hub with Roller Bearings

Rubber Tread on Aluminum Core

6"
2"
2

1/4

"
300
Straight Line
Soft
Durometer 60A
No
-40°
120°
__
0000000
000000
8"
2

1/2

"
2

1/4

"
500
Straight Line
Soft
Durometer 60A
No
-40°
120°
__
0000000
00000
10"
2

3/4

"
2

3/4

"
700
Straight Line
Soft
Durometer 60A
No
-40°
120°
__
0000000
000000
12"
2

3/4

"
3

1/4

"
800
Straight Line
Soft
Durometer 60A
No
-40°
120°
__
0000000
000000
16"
4"
4

1/4

"
1,200
Straight Line
Soft
Durometer 60A
No
-40°
120°
__
0000000
000000

Rubber Tread on Steel Core

6"
2"
2

1/4

"
150
Straight Line
Soft
Not Rated
No
__
__
Lug-Fit Rim
0000000
00000

Center-Mount

Hub with Ball Bearings

Rubber Tread on Steel Core

6"
2"
2

1/4

"
150
Straight Line
Soft
Not Rated
No
__
__
Lug-Fit Rim
0000000
00000

Rubber Tread with Polyurethane Foam Filler on Steel Core

9"
2

5/8

"
3"
290
Wavy Line
Hard
Durometer 65D
No
__
__
__

5/8

"
00000000
00000
10

3/8

"
3

3/8

"
3"
260
Wavy Line
Hard
Durometer 70D
No
__
__
__
00000000
00000
15

3/4

"
4"
6"
300
Straight Line
Hard
Durometer 55D
No
__
__
__
00000000
000000

Rubber Tread on Polypropylene Plastic Core

8"
2"
2

1/2

"
450
Straight Line
Soft
Durometer 80A
No
-20°
175°
__
0000000
00000
10"
2"
3

1/4

"
550
Straight Line
Soft
Durometer 80A
No
-20°
175°
__
0000000
00000
12"
2

3/4

"
3

1/4

"
850
Straight Line
Soft
Durometer 80A
No
-20°
175°
__

3/4

"
0000000
00000

Polyurethane Foam Tread on Steel Core

8

1/2

"
4"
4"
250
Solid
Soft
Durometer 65A
Yes
-20°
__
__

5/8

"
00000000
00000
8

3/4

"
2

11/16

"
3"
270
Wavy Line
Soft
Durometer 65A
Yes
-20°
__
__

5/8

"
00000000
00000
10

1/16

"
3

3/8

"
3

1/4

"
300
Wavy Line
Soft
Durometer 65A
Yes
-20°
__
__
00000000
00000
10

1/2

"
4"
5"
340
Solid
Soft
Durometer 65A
Yes
-20°
__
__

3/4

"
00000000
00000
13"
6"
3"
300
Solid
Soft
Durometer 65A
Yes
-20°
__
__

3/4

"
00000000
000000
13

3/16

"
3

3/8

"
3"
300
Straight Line
Soft
Not Rated
Yes
-10°
100°
__

5/8

"
0000000
00000
13

5/16

"
3

3/16

"
3"
300
Straight Line
Soft
Not Rated
Yes
-10°
100°
__

3/4

"
0000000
00000
13

5/16

"
4

1/2

"
3"
400
Arrow
Soft
Not Rated
Yes
-10°
100°
__

5/8

"
0000000
00000
15"
3

3/8

"
3"
1,000
Straight Line
Soft
Durometer 65A
Yes
-20°
__
__

3/4

"
00000000
000000
15"
3

3/8

"
6"
1,000
Straight Line
Soft
Durometer 65A
Yes
-20°
__
__
00000000
000000

Center-Mount

Hub with Sleeve Bearings

Polyurethane Foam Tread on Steel Core

13

5/16

"
4

1/2

"
3"
400
Arrow
Soft
Not Rated
Yes
-10°
100°
__

3/4

"
0000000
00000

Side-Mount

Hub with Ball Bearings

Rubber Tread with Polyurethane Foam Filler on Steel Core

10

3/8

"
3

3/8

"
2

1/4

"
260
Wavy Line
Hard
Durometer 70D
No
__
__
__

5/8

"
00000000
00000

Rubber Tread on Polypropylene Plastic Core

8"
2"
2

1/4

"
450
Straight Line
Soft
Durometer 80A
No
-20°
175°
__
0000000
00000
10"
2"
2

1/4

"
550
Straight Line
Soft
Durometer 80A
No
-20°
175°
__
0000000
00000

Polyurethane Foam Tread on Steel Core

8

3/4

"
2

11/16

"
2

1/4

"
270
Wavy Line
Soft
Durometer 65A
Yes
-20°
__
__

5/8

"
00000000
00000
9

3/4

"
3

5/16

"
2

1/4

"
300
Straight Line
Soft
Durometer 65A
Yes
-20°
__
__

5/8

"
00000000
00000
9

3/4

"
3

5/16

"
2

1/4

"
300
Wavy Line
Soft
Durometer 65A
Yes
-20°
__
__

5/8

"
00000000
00000