Steel-Hub

Pneumatic Wheels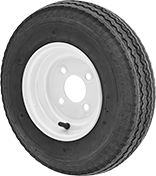 Wheel with Four Mounting Holes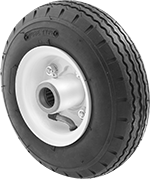 Wheel with Bearing


Diagonal
Block
Tread Pattern

Wavy Line
Tread
Pattern

Solid Tread Pattern

Tiger Tread Pattern

Straight Line
Tread
Pattern

Arrow Tread Pattern


Block Tread Pattern
These wheels consist of an air-filled rubber tire on a steel rim and are among the quietest, most shock-absorbing wheels available.
Tires with an inner tube are more puncture resistant than tubeless tires.
Sleeve bearings prevent wear to the wheel bore but don't roll as easily as other bearings. Roller bearings provide smooth rolling. Ball bearings are the easiest to roll.
Center-mount hubs are symmetrical for equal clearance on both sides of the wheel. Side-mount hubs are offset for extra clearance between the wheel and your equipment.
Two-piece rims consist of two pieces bolted together so the wheels can be quickly repaired or replaced.
Dia.

Wd.

Size
Style
Hub


Lg.

Cap.

per


Wheel,




lbs.

Tread
Pattern
Hardness
Rating
Wheel
Color
Features
Choose
For Axle


Dia.

Each
Each

Without Bearings

17

3/8

"
8

5/8

"
18/8.50-8
Tubeless
__
825
Diagonal Block
Soft
Black
__
__
0000000
0000000
000000
00

With Sleeve Bearings

14

1/8

"
6

3/16

"
15/6.00-6
Inner Tube
2"
400
Arrow
Soft
Black
__

3/4

"
0000000
00000
000000
00

With Roller Bearings

9"
2

5/8

"
2.80/2.50-4
Inner Tube
3

1/2

"
290
Wavy Line
Soft
Black
Two-Piece Rim
0000000
00000
0000000
000000
9"
2

5/8

"
2.80/2.50-4
Inner Tube
3

1/2

"
290
Wavy Line
Soft
Gray
Two-Piece Rim
00000000
00000
0000000
00000
9"
3

11/16

"
9.00/3.50-4
Inner Tube
4"
230
Arrow
Soft
Gray
Two-Piece Rim
00000000
00000
0000000
00000
9"
3

11/16

"
9.00/3.50-4
Inner Tube
4"
230
Solid
Soft
Black
Two-Piece Rim
0000000
00000
0000000
00000
10

3/8

"
3

3/8

"
4.10/3.50-4
Inner Tube
3

1/2

"
350
Diagonal Block
Soft
Black
Two-Piece Rim
0000000
00000
0000000
00000
10

3/8

"
3

3/8

"
4.10/3.50-4
Inner Tube
3

1/2

"
350
Diagonal Block
Soft
Gray
Two-Piece Rim
00000000
000000
0000000
00000
12

3/8

"
3

5/8

"
4.10/3.50-6
Inner Tube
4"
440
Diagonal Block
Soft
Black
Two-Piece Rim
1"
0000000
000000
0000000
00000
14"
4

5/8

"
5.30/4.50-6
Inner Tube
4"
630
Diagonal Block
Soft
Black
Two-Piece Rim
1"
0000000
000000
0000000
00000
16

1/8

"
4

11/16

"
4.80/4.00-8
Tubeless
4"
740
Wavy Line
Soft
Black
__
1

1/4

"
0000000
000000
0000000
00000
18"
5

7/8

"
5.70/4.50-8
Tubeless
4"
910
Wavy Line
Soft
Black
__
1

1/4

"
0000000
000000
0000000
00000
18"
8

1/2

"
18/8.50-8
Tubeless
3

1/4

"
510
Arrow
Soft
Black
__
0000000
000000
0000000
00000

With Ball Bearings

6"
2

1/2

"
__
Inner Tube
2

7/16

"
200
Tiger
Soft
Black
Two-Piece Rim

1/2

"
0000000
00000
000000
00
6"
2

1/2

"
__
Inner Tube
2

7/16

"
200
Tiger
Soft
Gray
Two-Piece Rim

1/2

"
0000000
00000
000000
00
8"
2

13/16

"
2.80/2.50-4
Inner Tube
3

1/2

"
300
Wavy Line
Hard
Black
__

1/2

"
0000000
00000
000000
00
8

5/8

"
2

1/2

"
2.50-4
Inner Tube
3

1/2

"
220
Diagonal Block
Soft
Gray
Two-Piece Rim

1/2

"
0000000
00000
000000
00
9"
2

5/8

"
2.80/2.50-4
Inner Tube
3"
290
Wavy Line
Soft
Black
__

5/8

"
0000000
00000
0000000
00000
9"
2

5/8

"
2.80/2.50-4
Inner Tube
3"
290
Wavy Line
Soft
Black
Two-Piece Rim
0000000
00000
0000000
00000
9"
2

5/8

"
2.80/2.50-4
Inner Tube
3"
290
Wavy Line
Soft
Gray
__

5/8

"
00000000
00000
0000000
00000
9"
2

5/8

"
2.80/2.50-4
Inner Tube
3"
290
Wavy Line
Soft
Gray
Two-Piece Rim
00000000
00000
0000000
00000
9"
2

5/8

"
2.80/2.50-4
Inner Tube
3

1/2

"
290
Wavy Line
Soft
Black
Two-Piece Rim
0000000
00000
0000000
00000
9"
2

5/8

"
2.80/2.50-4
Inner Tube
3

1/2

"
290
Wavy Line
Soft
Gray
Two-Piece Rim
00000000
00000
0000000
00000
10"
4

1/8

"
4.10/3.50-4
Inner Tube
4"
350
Wavy Line
Hard
Black
__

1/2

"
0000000
00000
000000
00
10

3/8

"
3

3/8

"
4.10/3.50-4
Inner Tube
3"
350
Diagonal Block
Soft
Gray
__
00000000
00000
0000000
00000
10

3/8

"
3

3/8

"
4.10/3.50-4
Inner Tube
3

1/2

"
350
Diagonal Block
Soft
Black
Two-Piece Rim
0000000
00000
0000000
00000
10

3/8

"
3

3/8

"
4.10/3.50-4
Inner Tube
3

1/2

"
350
Diagonal Block
Soft
Gray
Two-Piece Rim
00000000
00000
0000000
00000
10

3/8

"
3

3/8

"
4.10/3.50-4
Tubeless
3"
350
Diagonal Block
Soft
Black
__
0000000
00000
0000000
00000
10

7/8

"
4

1/8

"
4.10-4
Inner Tube
3

1/2

"
350
Diagonal Block
Soft
Gray
Two-Piece Rim

1/2

"
0000000
00000
000000
00
11

1/2

"
3

3/8

"
4.10/3.50-5
Inner Tube
3"
380
Diagonal Block
Soft
Black
Two-Piece Rim
0000000
00000
0000000
00000
12"
4

1/8

"
4.10/3.50-6
Inner Tube
4"
450
Wavy Line
Hard
Black
__

1/2

"
0000000
00000
000000
00
12

3/8

"
3

5/8

"
4.10/3.50-6
Inner Tube
4"
440
Diagonal Block
Soft
Black
Two-Piece Rim
0000000
000000
0000000
00000
12

3/8

"
3

5/8

"
4.10/3.50-6
Tubeless
3"
440
Diagonal Block
Soft
Black
__
0000000
00000
0000000
00000
13"
3

11/16

"
4.00-6
Inner Tube
3"
300
Straight Line
Soft
Black
__

5/8

"
0000000
00000
000000
00
13"
3

11/16

"
4.00-6
Inner Tube
3"
300
Straight Line
Soft
Black
__

3/4

"
0000000
00000
000000
00
13"
5"
13/5.00-6
Tubeless
3"
290
Arrow
Soft
Black
__
0000000
00000
0000000
00000
14"
4

5/8

"
5.30/4.50-6
Inner Tube
4"
630
Diagonal Block
Soft
Black
Two-Piece Rim
0000000
000000
0000000
00000
15

3/4

"
3

7/8

"
4.80/4.00-8
Inner Tube
3"
300
Straight Line
Soft
Black
__

3/4

"
0000000
00000
0000000
00000
15

3/4

"
4"
4.80/4.00-8
Tubeless
4"
300
Straight Line
Soft
Black
__

5/8

"
0000000
00000
0000000
00000
15

7/8

"
3

7/8

"
4.80/4.00-8
Tubeless
6"
480
Straight Line
Soft
Black
__
0000000
00000
0000000
00000
15

7/8

"
3

7/8

"
4.80/4.00-8
Tubeless
7

1/2

"
480
Straight Line
Soft
Black
__
0000000
00000
0000000
00000
16"
6

1/2

"
16/6.50-8
Tubeless
3"
410
Arrow
Soft
Black
__
0000000
000000
0000000
00000

With Ball Bearings

9"
2

5/8

"
2.80/2.50-4
Inner Tube
2

1/4

"
290
Wavy Line
Soft
Black
Two-Piece Rim
0000000
00000
0000000
00000
9"
3

5/8

"
2.80/2.50-4
Inner Tube
2

1/4

"
290
Wavy Line
Soft
Gray
Two-Piece Rim
00000000
00000
0000000
00000
10

3/8

"
3

3/8

"
4.10/3.50-4
Inner Tube
2

1/4

"
350
Diagonal Block
Soft
Gray
__
00000000
00000
0000000
00000
10

3/8

"
3

3/8

"
4.10/3.50-4
Tubeless
2

1/4

"
350
Diagonal Block
Soft
Black
__
0000000
00000
0000000
00000