Threaded-Stem

Casters with Polyurethane Wheels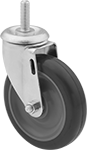 Swivel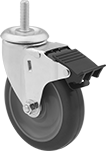 Swivel with Total Lock
Use these general purpose casters in a variety of applications. Their polyurethane wheels are as abrasion resistant as plastic but are not as hard. They can be used on smooth and rough floors and in areas with debris.
Tread-on-core wheels have a polypropylene core that is harder than the tread, balancing strength with cushioning.
Casters with total lock brake the wheel and lock the swivel with one press of the foot pedal.
Roller wheel bearings provide smooth rolling. Ball wheel bearings are the easiest to roll.
Ball swivel bearings provide smooth swiveling. Double-ball swivel bearings have the smoothest swivel.
Shielded bearings protect the bearing from dust and debris. Sealed bearings are completely sealed for the best protection against dust and debris.
For technical drawings and 3-D models, click on a part number.
Dia.

Wd.

Mount


Ht.

Cap.

per


Caster,




lbs.

Stem


Lg.

Stem
Thread
Pitch
Wheel
Bearing
Type
Frame
Material
Type
Seal
Type
Each

Swivel

1/2"-13

Stem Thread Size

Nonmarking Red

Tread-on-Core

Wheels—

Firm

3

1/2

"
1

1/4

"
4

13/16

"
300
1

1/2

"
__
Ball
Zinc-Plated Steel
Double Ball
Shielded
0000000
000000
4"
1

1/4

"
5

7/16

"
300
1

1/2

"
__
Ball
Zinc-Plated Steel
Double Ball
Shielded
0000000
00000
5"
1

1/4

"
6

7/16

"
300
1

1/2

"
__
Ball
Zinc-Plated Steel
Double Ball
Shielded
0000000
00000

Nonmarking Blue

Tread-on-Core

Wheels—

Hard

5"
1

1/4

"
5

7/8

"
250

7/8

"
__
Ball
Zinc-Plated Steel
Ball
Sealed
00000000
00000

Nonmarking Red

Tread-on-Core

Wheels—

Hard

2

1/2

"
1

1/4

"
3

3/4

"
250
1

1/2

"
__
Ball
Zinc-Plated Steel
Double Ball
Open
0000000
00000
3

1/2

"
1

1/4

"
4

9/16

"
250
1

1/2

"
__
Ball
Zinc-Plated Steel
Double Ball
Open
0000000
00000
4"
1

1/4

"
5"
270
1

1/2

"
__
Ball
Zinc-Plated Steel
Double Ball
Open
0000000
00000
5"
1

1/4

"
6

1/16

"
300
1

1/2

"
__
Ball
Zinc-Plated Steel
Double Ball
Open
0000000
00000

Nonmarking Black Solid

Wheels—

Hard

4"
2"
5

5/8

"
650
4"
__
Roller
Zinc-Plated Steel
Double Ball
Open
0000000
00000
5"
2"
6

1/2

"
800
4"
__
Roller
Zinc-Plated Steel
Double Ball
Open
0000000
00000
6"
2"
7

1/2

"
900
4"
__
Roller
Zinc-Plated Steel
Double Ball
Open
0000000
00000
8"
2"
9

1/2

"
900
4"
__
Roller
Zinc-Plated Steel
Double Ball
Open
0000000
00000

5/8"-11

Stem Thread Size

Nonmarking Red

Tread-on-Core

Wheels—

Firm

3

1/2

"
1

1/4

"
4

13/16

"
300
2"
__
Ball
Zinc-Plated Steel
Double Ball
Shielded
0000000
00000
4"
1

1/4

"
5

7/16

"
300
2"
__
Ball
Zinc-Plated Steel
Double Ball
Shielded
0000000
00000
5"
1

1/4

"
6

7/16

"
300
2"
__
Ball
Zinc-Plated Steel
Double Ball
Shielded
0000000
00000

3/4"-10

Stem Thread Size

Nonmarking Red

Tread-on-Core

Wheels—

Firm

3

1/2

"
1

1/4

"
4

13/16

"
300
2

1/2

"
__
Ball
Zinc-Plated Steel
Double Ball
Shielded
0000000
00000
4"
1

1/4

"
5

7/16

"
300
2

1/2

"
__
Ball
Zinc-Plated Steel
Double Ball
Shielded
0000000
00000
5"
1

1/4

"
6

7/16

"
300
2

1/2

"
__
Ball
Zinc-Plated Steel
Double Ball
Shielded
0000000
00000

Nonmarking Black Solid

Wheels—

Hard

4"
2"
5

5/8

"
650
4"
__
Roller
Zinc-Plated Steel
Double Ball
Open
0000000
00000
5"
2"
6

1/2

"
800
4"
__
Roller
Zinc-Plated Steel
Double Ball
Open
0000000
00000
6"
2"
7

1/2

"
900
4"
__
Roller
Zinc-Plated Steel
Double Ball
Open
0000000
00000
8"
2"
9

1/2

"
900
4"
__
Roller
Zinc-Plated Steel
Double Ball
Open
0000000
00000

M20 Stem Thread Size

Nonmarking Gray Solid

Wheels—

Hard

4"
2"
5

5/8

"
1,000
4"
2.5mm
Ball
Zinc-Plated Steel
Double Ball
Shielded
0000000
00000
5"
2"
6

1/2

"
1,000
4"
2.5mm
Ball
Zinc-Plated Steel
Double Ball
Shielded
0000000
00000
6"
2"
7

1/2

"
1,100
4"
2.5mm
Ball
Zinc-Plated Steel
Double Ball
Shielded
0000000
00000
8"
2"
9

1/2

"
1,200
4"
2.5mm
Ball
Zinc-Plated Steel
Double Ball
Shielded
0000000
00000

Swivel with Total Lock

1/2"-13

Stem Thread Size

Nonmarking Red

Tread-on-Core

Wheels—

Firm

3

1/2

"
1

1/4

"
4

13/16

"
300
1

1/2

"
__
Ball
Zinc-Plated Steel
Double Ball
Shielded
0000000
00000
4"
1

1/4

"
5

7/16

"
300
1

1/2

"
__
Ball
Zinc-Plated Steel
Double Ball
Shielded
0000000
00000
5"
1

1/4

"
6

7/16

"
300
1

1/2

"
__
Ball
Zinc-Plated Steel
Double Ball
Shielded
0000000
00000

Nonmarking Red

Tread-on-Core

Wheels—

Hard

3

1/2

"
1

1/4

"
4

9/16

"
250
1

1/2

"
__
Ball
Zinc-Plated Steel
Double Ball
Open
0000000
00000
4"
1

1/4

"
5"
270
1

1/2

"
__
Ball
Zinc-Plated Steel
Double Ball
Open
0000000
00000
5"
1

1/4

"
6

1/16

"
300
1

1/2

"
__
Ball
Zinc-Plated Steel
Double Ball
Open
0000000
00000

Nonmarking Black Solid

Wheels—

Hard

4"
2"
5

5/8

"
650
4"
__
Roller
Zinc-Plated Steel
Double Ball
Open
0000000
00000
5"
2"
6

1/2

"
800
4"
__
Roller
Zinc-Plated Steel
Double Ball
Open
0000000
00000
6"
2"
7

1/2

"
900
4"
__
Roller
Zinc-Plated Steel
Double Ball
Open
0000000
00000
8"
2"
9

1/2

"
900
4"
__
Roller
Zinc-Plated Steel
Double Ball
Open
0000000
00000

5/8"-11

Stem Thread Size

Nonmarking Red

Tread-on-Core

Wheels—

Firm

3

1/2

"
1

1/4

"
4

13/16

"
300
2"
__
Ball
Zinc-Plated Steel
Double Ball
Shielded
0000000
00000
4"
1

1/4

"
5

7/16

"
300
2"
__
Ball
Zinc-Plated Steel
Double Ball
Shielded
0000000
00000
5"
1

1/4

"
6

7/16

"
300
2"
__
Ball
Zinc-Plated Steel
Double Ball
Shielded
0000000
00000

3/4"-10

Stem Thread Size

Nonmarking Red

Tread-on-Core

Wheels—

Firm

3

1/2

"
1

1/4

"
4

13/16

"
300
2

1/2

"
__
Ball
Zinc-Plated Steel
Double Ball
Shielded
0000000
00000
4"
1

1/4

"
5

7/16

"
300
2

1/2

"
__
Ball
Zinc-Plated Steel
Double Ball
Shielded
0000000
00000
5"
1

1/4

"
6

7/16

"
300
2

1/2

"
__
Ball
Zinc-Plated Steel
Double Ball
Shielded
0000000
00000

Nonmarking Black Solid

Wheels—

Hard

4"
2"
5

5/8

"
650
4"
__
Roller
Zinc-Plated Steel
Double Ball
Open
0000000
00000
5"
2"
6

1/2

"
800
4"
__
Roller
Zinc-Plated Steel
Double Ball
Open
0000000
00000
6"
2"
7

1/2

"
900
4"
__
Roller
Zinc-Plated Steel
Double Ball
Open
0000000
00000
8"
2"
9

1/2

"
900
4"
__
Roller
Zinc-Plated Steel
Double Ball
Open
0000000
00000

M20 Stem Thread Size

Nonmarking Gray Solid

Wheels—

Hard

4"
2"
5

5/8

"
1,000
4"
2.5mm
Ball
Zinc-Plated Steel
Double Ball
Shielded
0000000
00000
5"
2"
6

1/2

"
1,000
4"
2.5mm
Ball
Zinc-Plated Steel
Double Ball
Shielded
0000000
00000
6"
2"
7

1/2

"
1,100
4"
2.5mm
Ball
Zinc-Plated Steel
Double Ball
Shielded
0000000
00000
8"
2"
9

1/2

"
1,200
4"
2.5mm
Ball
Zinc-Plated Steel
Double Ball
Shielded
0000000
000000