Threaded-Stem

Casters with Rubber Wheels

Swivel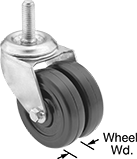 Swivel with Brake

Dual-Wheel
Swivel with Brake

Swivel with Total Lock
Install these casters into a threaded hole. Dual-wheel casters provide better load distribution and easier turning than single-wheel casters.
Tread-on-core wheels have a core that is harder than the tread, balancing strength with cushioning.
Soft and firm rubber wheels are shock absorbing and provide good traction on rough surfaces. Hard rubber wheels are impact resistant and roll easily on smooth surfaces, but can be damaging to floors.
Casters with wheel brake apply pressure to the wheel to stop movement with a press of the foot pedal. Casters with total lock brake the wheel and lock the swivel with one press of the foot pedal.
Sleeve and flanged-sleeve wheel bearings prevent wear to the wheel bore but don't roll as easily as other bearings. Ball wheel bearings are the easiest to roll.
Ball swivel bearings provide smooth swiveling. Double-ball swivel bearings swivel more smoothly than ball bearings.
Shielded bearings protect the bearing from dust and debris. Sealed bearings are completely sealed for the best protection against dust and debris.
Dia.

Wd.

No.


of
Mount


Ht.

Cap.

per


Caster,




lbs.

Hardness
Stem


Lg.

Type
Plain
Bearing
Type
Type
Seal
Type
Each

Swivel

5/16"-18

Stem Thread Size

2"

7/8

"
1
2

11/16

"
90
Durometer 80A
1

1/2

"
Sleeve
__
Double Ball
Open
00000000
000000
2"

7/8

"
2
2

3/4

"
150
Durometer 80A
1

1/2

"
Sleeve
__
Double Ball
Open
00000000
00000
2

1/2

"

3/4

"
1
3"
90
Durometer 80A
1"
Sleeve
__
Double Ball
Open
0000000
0000
2"

7/8

"
1
2

11/16

"
125
Durometer 90A
1

1/2

"
Sleeve
__
Double Ball
Open
00000000
00000
2"

7/8

"
2
2

3/4

"
200
Durometer 90A
1

1/2

"
Sleeve
__
Double Ball
Open
00000000
00000
2

1/2

"

3/4

"
1
3"
100
Durometer 80D
1"
Sleeve
__
Double Ball
Open
0000000
00000

3/8"-16

Stem Thread Size

2

1/2

"

3/4

"
1
3"
90
Durometer 80A
1

1/2

"
Sleeve
__
Double Ball
Open
0000000
0000
2

1/2

"

7/8

"
2
3

7/16

"
200
Durometer 80A
1

1/2

"
Sleeve
__
Double Ball
Open
00000000
00000
2"

7/8

"
1
2

11/16

"
125
Durometer 90A
1

1/2

"
Sleeve
__
Double Ball
Open
00000000
00000
2"

7/8

"
2
2

3/4

"
200
Durometer 90A
1

1/2

"
Sleeve
__
Double Ball
Open
00000000
00000
3"

13/16

"
1
3

11/16

"
150
Durometer 90A
1

1/2

"
Sleeve
__
Double Ball
Open
00000000
00000
3"

13/16

"
2
3

11/16

"
250
Durometer 90A
1

1/2

"
Sleeve
__
Double Ball
Open
00000000
00000
4"

31/32

"
1
4

5/8

"
135
Durometer 90A
1

1/2

"
Sleeve
__
Double Ball
Open
00000000
00000
4"

31/32

"
2
4

11/16

"
240
Durometer 90A
1

1/2

"
Sleeve
__
Double Ball
Open
00000000
00000
5"

31/32

"
1
5

5/8

"
145
Durometer 90A
1

1/2

"
Sleeve
__
Double Ball
Open
00000000
00000
5"

31/32

"
2
5

5/8

"
250
Durometer 90A
1

1/2

"
Sleeve
__
Double Ball
Open
00000000
00000
2

1/2

"

3/4

"
1
3"
100
Durometer 80D
1

1/2

"
Sleeve
__
Double Ball
Open
0000000
0000
3"

3/4

"
1
3

9/16

"
120
Durometer 80D
1

1/2

"
Sleeve
__
Double Ball
Open
0000000
0000

Nonmarking Gray

Tread-on-Core

Wheels—

Soft

3"
1

1/4

"
1
4

3/8

"
225
Durometer 80A
1

1/2

"
Ball
__
Double Ball
Shielded
0000000
00000
3"
1

1/4

"
1
4

3/8

"
225
Durometer 80A
1

1/2

"
Plain
Flanged Sleeve
Double Ball
Shielded
0000000
00000
4"
1

1/4

"
1
5

7/16

"
250
Durometer 80A
1

1/2

"
Ball
__
Double Ball
Shielded
0000000
00000
4"
1

1/4

"
1
5

7/16

"
250
Durometer 80A
1

1/2

"
Plain
Flanged Sleeve
Double Ball
Shielded
0000000
00000
5"
1

1/4

"
1
6

7/16

"
275
Durometer 80A
1

1/2

"
Ball
__
Double Ball
Shielded
0000000
00000
5"
1

1/4

"
1
6

7/16

"
275
Durometer 80A
1

1/2

"
Plain
Flanged Sleeve
Double Ball
Shielded
0000000
00000

1/2"-13

Stem Thread Size

3"

13/16

"
1
3

11/16

"
100
Durometer 80A
1

1/2

"
Sleeve
__
Double Ball
Open
00000000
00000
3"

13/16

"
2
3

11/16

"
200
Durometer 80A
1

1/2

"
Sleeve
__
Double Ball
Open
00000000
00000
3"
1

1/4

"
1
3

9/16

"
170
Durometer 80A
1

1/2

"
Sleeve
__
Double Ball
Open
0000000
00000
4"
1

1/4

"
1
4

3/4

"
200
Durometer 80A
1

1/2

"
Sleeve
__
Double Ball
Open
0000000
00000
4"
1

1/4

"
2
4

11/16

"
330
Durometer 80A
1

1/2

"
Sleeve
__
Double Ball
Open
00000000
00000
5"
1

1/4

"
1
5

13/16

"
210
Durometer 80A
1

1/2

"
Sleeve
__
Double Ball
Open
0000000
00000
5"
1

1/4

"
2
5

5/8

"
340
Durometer 80A
1

1/2

"
Sleeve
__
Double Ball
Open
00000000
00000
3"

13/16

"
1
3

11/16

"
150
Durometer 90A
1

1/2

"
Sleeve
__
Double Ball
Open
00000000
00000
3"

13/16

"
2
3

11/16

"
250
Durometer 90A
1

1/2

"
Sleeve
__
Double Ball
Open
00000000
00000
3"
1

3/8

"
1
3

7/8

"
210
Durometer 90A
1

1/2

"
Sleeve
__
Double Ball
Open
00000000
00000
3"
1

3/8

"
2
3

1/2

"
340
Durometer 90A
1

1/2

"
Sleeve
__
Double Ball
Open
00000000
00000
4"
1

1/4

"
1
4

7/8

"
255
Durometer 90A
1

1/2

"
Sleeve
__
Double Ball
Open
00000000
00000
4"
1

1/4

"
2
4

11/16

"
350
Durometer 90A
1

1/2

"
Sleeve
__
Double Ball
Open
00000000
00000
5"
1

1/4

"
1
6

1/16

"
255
Durometer 90A
1

1/2

"
Sleeve
__
Double Ball
Open
00000000
00000
5"
1

1/4

"
2
5

3/4

"
360
Durometer 90A
1

1/2

"
Sleeve
__
Double Ball
Open
00000000
00000
3"
1

1/4

"
1
3

9/16

"
270
Durometer 80D
1

1/2

"
Sleeve
__
Double Ball
Open
0000000
00000
4"
1

1/4

"
1
4

3/4

"
280
Durometer 80D
1

1/2

"
Sleeve
__
Double Ball
Open
0000000
00000

Black

Tread-on-Core

Wheels—

Soft

6"
1

1/4

"
1
7

1/8

"
150
Durometer 70A
1

1/2

"
Ball
__
Double Ball
Shielded
0000000
00000

Nonmarking Blue

Tread-on-Core

Wheels—

Soft

5"
1

1/4

"
1
5

7/8

"
250
Durometer 75A

7/8

"
Ball
__
Ball
Sealed
00000000
00000

Nonmarking Gray

Tread-on-Core

Wheels—

Soft

3"
1

1/4

"
1
4

3/8

"
225
Durometer 80A
1

1/2

"
Ball
__
Double Ball
Shielded
0000000
00000
3"
1

1/4

"
1
4

3/8

"
225
Durometer 80A
1

1/2

"
Plain
Flanged Sleeve
Double Ball
Shielded
0000000
00000
3

1/2

"
1

1/4

"
1
4

9/16

"
250
Durometer 65A
1

1/2

"
Ball
__
Double Ball
Open
0000000
00000
3

1/2

"
1

1/4

"
1
4

13/16

"
240
Durometer 80A
1

1/2

"
Ball
__
Double Ball
Shielded
0000000
00000
3

1/2

"
1

1/4

"
1
4

13/16

"
240
Durometer 80A
1

1/2

"
Plain
Flanged Sleeve
Double Ball
Shielded
0000000
00000
4"
1

1/4

"
1
5"
300
Durometer 65A
1

1/2

"
Ball
__
Double Ball
Open
0000000
00000
4"
1

1/4

"
1
5

7/16

"
250
Durometer 80A
1

1/2

"
Ball
__
Double Ball
Shielded
0000000
00000
4"
1

1/4

"
1
5

7/16

"
250
Durometer 80A
1

1/2

"
Plain
Flanged Sleeve
Double Ball
Shielded
0000000
00000
5"
1

1/4

"
1
6

1/16

"
320
Durometer 65A
1

1/2

"
Ball
__
Double Ball
Open
0000000
00000
5"
1

1/4

"
1
6

7/16

"
270
Durometer 80A
1

1/2

"
Ball
__
Double Ball
Shielded
0000000
00000
5"
1

1/4

"
1
6

7/16

"
275
Durometer 80A
1

1/2

"
Plain
Flanged Sleeve
Double Ball
Shielded
0000000
00000

Nonmarking Gray

Tread-on-Core

Wheels—

Firm

2"

7/8

"
2
2

3/4

"
180
Durometer 90A
1

1/2

"
Plain
Flanged Sleeve
Double Ball
Open
00000000
0000

5/8"-11

Stem Thread Size

Nonmarking Gray

Tread-on-Core

Wheels—

Soft

3

1/2

"
1

1/4

"
1
4

13/16

"
240
Durometer 80A
2"
Ball
__
Double Ball
Shielded
0000000
00000
3

1/2

"
1

1/4

"
1
4

13/16

"
240
Durometer 80A
2"
Plain
Flanged Sleeve
Double Ball
Shielded
0000000
00000
4"
1

1/4

"
1
5

7/16

"
250
Durometer 80A
2"
Ball
__
Double Ball
Shielded
0000000
00000
4"
1

1/4

"
1
5

7/16

"
250
Durometer 80A
2"
Plain
Flanged Sleeve
Double Ball
Shielded
0000000
00000
5"
1

1/4

"
1
6

7/16

"
270
Durometer 80A
2"
Ball
__
Double Ball
Shielded
0000000
00000
5"
1

1/4

"
1
6

7/16

"
275
Durometer 80A
2

1/2

"
Plain
Flanged Sleeve
Double Ball
Shielded
0000000
00000

3/4"-10

Stem Thread Size

4"
1

1/2

"
1
5

3/8

"
250
Durometer 80A
2

1/2

"
Sleeve
__
Double Ball
Open
00000000
00000
4"
2"
2
5

1/2

"
600
Durometer 80A
2

1/2

"
Sleeve
__
Double Ball
Open
00000000
00000
5"
1

1/2

"
1
6

5/16

"
270
Durometer 80A
2

1/2

"
Sleeve
__
Double Ball
Open
00000000
00000
5"
2"
2
6

1/2

"
620
Durometer 80A
2

1/2

"
Sleeve
__
Double Ball
Open
00000000
00000