V-Groove

Wheel Track Casters with Polyurethane Wheels

Rigid

Swivel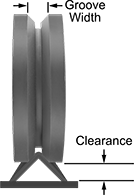 The wheels of these casters have a 90° V-groove and a flat tread to move your equipment on angle-iron track as well as the floor. Their polyurethane wheels combine the abrasion resistance of plastic with the impact resistance of rubber. Use them on smooth or rough floors and in areas with debris.
Wheels have roller bearings for smooth rolling.
Swivel casters have double-ball bearings for the smoothest swiveling.
For technical drawings and 3-D models, click on a part number.
Dia.

Wd.

Mount


Ht.

Cap.

per


Caster,




lbs.

Hardness
Groove


Wd.

Clearance
on

1 1/2"


Track
Clearance
on

1 1/4"


Track
Type
Material
Frame
Material
Each

Rigid

4"
2"
5

5/8

"
300
Durometer 60D

7/8

"

3/4

"

1/2

"
Roller
Steel
Zinc-Plated Steel
0000000
000000
5"
2"
6

1/2

"
300
Durometer 60D

7/8

"

3/4

"

1/2

"
Roller
Steel
Zinc-Plated Steel
0000000
00000

Swivel

4"
2"
5

5/8

"
300
Durometer 60D

7/8

"

3/4

"

1/2

"
Roller
Steel
Zinc-Plated Steel
0000000
00000
5"
2"
6

1/2

"
300
Durometer 60D

7/8

"

3/4

"

1/2

"
Roller
Steel
Zinc-Plated Steel
0000000
00000