Water-Resistant

Phenolic Wheels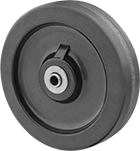 Unlike other phenolic wheels, these won't absorb water. As the standard for plastic wheels, phenolic wheels are nonmarking and perform well at high temperatures. They roll best on smooth surfaces.
Wheels without bearings ride directly on the axle, making them an economical choice for equipment not frequently moved. Roller bearings provide smoother rolling than wheels without bearings.
For technical drawings and 3-D models, click on a part number.
Dia.

Wd.

Hub


Lg.

Cap.

per


Wheel,




lbs.

Hardness
Nonmarking
Wheels
Seal
Type
Material
Wheel
Core
Style

Temp.




Range,




°F

Choose
For Axle


Dia.

Each

Without Bearings

3"
1

1/4

"
1

7/16

"
400
Durometer 90D
Yes
__
__
Solid
-50° to 250°

1/2

"
0000000
00000
3

1/2

"
1

1/4

"
1

7/16

"
400
Durometer 90D
Yes
__
__
Solid
-50° to 250°

1/2

"
0000000
0000
4"
1

1/4

"
1

7/16

"
400
Durometer 90D
Yes
__
__
Solid
-50° to 250°

1/2

"
0000000
0000
5"
1

1/4

"
1

7/16

"
400
Durometer 90D
Yes
__
__
Solid
-50° to 250°

1/2

"
0000000
0000

With Roller Bearings

3"
1

1/4

"
1

1/2

"
400
Durometer 90D
Yes
Open
Steel
Solid
-50° to 250°

3/8

"
00000000
00000
3

1/4

"
1

1/2

"
1

7/8

"
600
Durometer 90D
Yes
Open
Steel
Solid
-50° to 250°
0000000
00000
3

1/4

"
2"
2

7/16

"
700
Durometer 90D
Yes
Open
Steel
Solid
-50° to 250°

1/2

"
00000000
00000
4"
1

1/4

"
1

1/2

"
400
Durometer 90D
Yes
Open
Steel
Solid
-50° to 250°

3/8

"
00000000
00000
4"
1

1/2

"
1

7/8

"
600
Durometer 90D
Yes
Open
Steel
Solid
-50° to 250°
0000000
00000
4"
2"
2

7/16

"
800
Durometer 90D
Yes
Open
Steel
Solid
-50° to 250°
0000000
00000
5"
1

1/4

"
1

1/2

"
400
Durometer 90D
Yes
Open
Steel
Solid
-50° to 250°

3/8

"
00000000
00000
5"
1

1/2

"
1

7/8

"
650
Durometer 90D
Yes
Open
Steel
Solid
-50° to 250°
0000000
00000
5"
2"
2

7/16

"
1,000
Durometer 90D
Yes
Open
Steel
Solid
-50° to 250°
0000000
00000
6"
2"
2

7/16

"
1,200
Durometer 90D
Yes
Open
Steel
Solid
-50° to 250°
0000000
00000
6"
2

1/2

"
3"
1,600
Durometer 90D
Yes
Open
Steel
Solid
-50° to 250°

3/4

"
00000000
00000
6"
3"
3

1/2

"
2,000
Durometer 90D
Yes
Open
Steel
Solid
-50° to 250°

3/4

"
00000000
00000
8"
2"
2

7/16

"
1,400
Durometer 90D
Yes
Open
Steel
Solid
-50° to 250°
0000000
00000
8"
2

1/2

"
3"
1,800
Durometer 90D
Yes
Open
Steel
Solid
-50° to 250°

3/4

"
00000000
00000
8"
3"
3

1/2

"
2,500
Durometer 90D
Yes
Open
Steel
Solid
-50° to 250°

3/4

"
00000000
00000
10"
2

1/2

"
3

1/2

"
2,500
Durometer 90D
Yes
Open
Steel
Solid
-50° to 250°

3/4

"
00000000
00000
10"
3"
3

1/2

"
2,900
Durometer 90D
Yes
Open
Steel
Solid
-50° to 250°
0000000
00000
12"
3"
3

1/2

"
3,500
Durometer 90D
Yes
Open
Steel
Solid
-50° to 250°
0000000
00000