Corrosion-Resistant

Chain—

Not for Lifting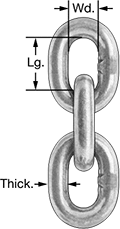 This chain withstands conditions that can deteriorate steel chain.
Aluminum and brass chain have excellent corrosion resistance.
304 and 316 stainless steel chain are the most corrosion resistant. 316 stainless steel is more corrosion resistant than 304 stainless steel, so you can use it in food processing areas and environments where chemicals are used.
Straight-Link


Chain Trade
Size
Metric
Trade
Size

Thick.

Wd.

Lg.

Cap.,




lbs.

Approximate


No.

of Links
per

ft.

For
Fitting


Thick.

Max.




Temp.,




° F

For
Use
Outdoors

Lengths,




ft.

Per


Ft.

Aluminum

__
7
0.26"
0.37"
1.06"
500
11

5/16

"
100°
Yes
0000000
000000

Brass

3/16

5.5
0.22"
0.40"
0.95"
300
13

3/8

"
100°
Yes
00000000
000000

1/4

7
0.28"
0.50"
1.00"
500
12

7/16

"
100°
Yes
00000000
000000

3/8

10
0.41"
0.59"
1.25"
800
9

9/16

"
100°
Yes
00000000
000000

304 Stainless Steel

1/8

4
0.16"
0.26"
0.94"
400
13

1/4

"
750°
Yes
0000000
0000

3/16

5
0.20"
0.38"
0.95"
1,200
13

3/8

"
750°
Yes
0000000
00000

9/32

7
0.28"
0.42"
0.83"
2,000
14

7/16

"
750°
Yes
0000000
00000

5/16

8
0.32"
0.46"
0.94"
2,400
13

7/16

"
750°
Yes
0000000
00000

3/8

10
0.39"
0.55"
1.10"
3,500
11

1/2

"
750°
Yes
0000000
00000

316 Stainless Steel

__
__
0.08"
0.14"
0.87"
50
14

1/8

"
750°
Yes
0000000
0000
__
__
0.12"
0.21"
1.02"
100
12

3/16

"
750°
Yes
0000000
0000

1/8

4
0.16"
0.26"
0.94"
400
13

1/4

"
750°
Yes
0000000
0000

3/16

5
0.20"
0.38"
0.95"
1,200
13

3/8

"
750°
Yes
0000000
00000

9/32

7
0.28"
0.42"
0.83"
2,000
14

3/8

"
750°
Yes
0000000
00000

5/16

8
0.32"
0.46"
0.94"
2,800
13

7/16

"
750°
Yes
0000000
00000

3/8

10
0.39"
0.55"
1.10"
3,500
11

1/2

"
750°
Yes
0000000
00000

1/2

13
0.51"
0.69"
1.54"
7,400
8

11/16

"
750°
Yes
0000000
00000