Wear Strips for Conveyor Chain Belts

A

B

C

D

E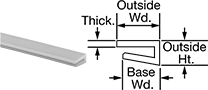 Attach these strips to conveyor frames to reduce friction and abrasion on chain belts. Made from UHMW polyethylene, they have a slippery surface that keeps your belt from sticking. They hold up to repeated bumps, scrapes, and rubbing.
Lubricated strips are more slippery than strips without lubricant, for the least amount of friction. They're good for high-speed applications and noise reduction.
For technical drawings and 3-D models, click on a part number.
Style

Wd.

Ht.

Base


Wd.

Thick.

For

Max.


Frame

Thick.

Color
Each
Color
Each

UHMW Polyethylene Plastic

A

7/8

"

3/8

"

3/4

"

1/8

"

1/8

"
White
00000000
000000
__
000000
00
B

3/4

"

3/8

"

3/4

"

1/8

"

1/8

"
White
0000000
00000
Gray
00000000
000000
B
1"

7/16

"

3/4

"

3/16

"

1/8

"
White
0000000
00000
__
000000
00
B
1

1/2

"

7/16

"

3/4

"

3/16

"

1/8

"
White
0000000
00000
__
000000
00
B
2"

7/16

"

3/4

"

3/16

"

1/8

"
White
0000000
00000
__
000000
00
C

15/16

"

1/2

"

1/2

"

3/16

"

11/64

"
__
000000
00
Gray
00000000
00000
A

7/8

"

3/8

"

3/4

"

1/8

"

1/8

"
White
00000000
00000
Gray
00000000
00000
B

3/4

"

3/8

"

3/4

"

1/8

"

1/8

"
White
00000000
00000
Gray
00000000
00000
C

7/8

"

3/8

"

1/2

"

1/8

"

11/64

"
White
00000000
00000
__
000000
00
C

15/16

"

3/8

"

1/2

"

1/8

"

11/64

"
White
00000000
00000
__
000000
00
D
1"

3/8

"

1/2

"

1/8

"

9/64

"
__
000000
00
Gray
00000000
00000
D
1"

1/2

"

1/2

"

3/16

"

3/16

"
White
00000000
00000
__
000000
00
E
1

3/8

"

9/16

"

11/16

"

3/16

"

17/64

"
White
00000000
000000
__
000000
00
E
1

1/2

"

3/8

"

1/2

"

1/8

"

1/8

"
White
00000000
00000
Gray
00000000
00000
E
2"

3/8

"

1/2

"

1/8

"

9/64

"
White
00000000
00000
Gray
00000000
00000
A

7/8

"

3/8

"

3/4

"

1/8

"

1/8

"
White
00000000
00000
__
000000
00
B

3/4

"

3/8

"

3/4

"

1/8

"

1/8

"
White
00000000
00000
Gray
00000000
00000
C

15/16

"

3/8

"

1/2

"

1/8

"

11/64

"
White
00000000
00000
__
000000
00
D
1"

3/8

"

1/2

"

1/8

"

9/64

"
__
000000
00
Gray
00000000
00000
D
1"

1/2

"

1/2

"

3/16

"

3/16

"
White
00000000
00000
__
000000
00
E
1

1/2

"

3/8

"

1/2

"

1/8

"

1/8

"
White
00000000
00000
Gray
00000000
00000
E
2"

3/8

"

1/2

"

1/8

"

9/64

"
__
000000
00
Gray
00000000
000000
C

15/16

"

3/8

"

1/2

"

1/8

"

11/64

"
White
00000000
000000
__
000000
00
D
1"

1/2

"

1/2

"

3/16

"

3/16

"
White
00000000
000000
__
000000
00