Heavy Duty Belt and Roller Chain Tensioners
Maintain correct drive tension to ensure smooth operation for maximum power and a long service life. Designed for use on large belt and chain drives, tensioners are spring loaded to provide constant tension and automatic adjustments for pulsating loads. Idler shaft (sold separately) is required.
For technical drawings and 3-D models, click on a part number.
Tensioner Shown with Idler Shaft
(Sold Separately)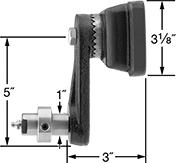 Side View of Tensioner Shown with Idler Shaft
(Sold Separately)