Robot-Ready

Cable and Hose Carrier Kits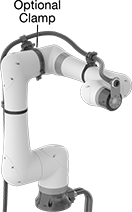 Shown with Robot Arm
(Not Included)
Designed for specific robot models, these kits have all of the parts required to create a cable and hose carrier. Use them to organize and protect cable and hose without obstructing your robot's movement. We also offer other any-which-way cable and hose carriers (not included).
Kits that strap on have hook and loop closures that attach to robot arms, making them easier to put on and take off than kits that clamp on. They're not as secure, however—use them with robots that operate at slow to average speeds, or to support a moderate weight of cable and tubing.
Kits that clamp on have metal straps that attach to robot arms, so they're more secure than kits that strap on. Use them on robots that work at fast speeds that cause vibration, or with heavy cable and tubing. Clamp-on mounts require a screwdriver to install and remove.
Kits that screw on mount directly to robot arms for a secure hold. Those with a retraction system extend or pull back carriers as the robots move to prevent dangling slack from interfering.
Use optional clamps to suspend carriers over the widest part of FANUC CRX robot arms. These clamps help support heavy conduit and high-speed movements.
For Robot Arm
Manufacturer


(Series/Model No.)

Carrier
OD
For
Maximum
Cable OD
Bend
Radius
Carrier


Length,




ft.

Color
Temperature


Range,




°F

Mounting
Hardware
Included
Each
Each
FANUC (CRX 10iA, 10iA/L)
0.83" / 21 mm
0.65"
1.2"
10
Black
-55° to 300°
Yes
0000000
0000000
0000000
0000000
FANUC (CRX 10iA, 10iA/L)
1.1" / 28 mm
0.88"
1.6"
10
Black
-55° to 300°
Yes
0000000
000000
0000000
000000
FANUC (CRX 10iA, 10iA/L)
1.34" / 34 mm
1.11"
2"
10
Black
-55° to 300°
Yes
0000000
000000
0000000
000000
FANUC (CRX 10iA, 10iA/L)
1.65" / 42 mm
1.41"
2.4"
10
Black
-55° to 300°
Yes
0000000
000000
0000000
000000
Omron (TM 12, 14,
5-700, 5-900)
Universal Robots (UR3,
UR3e, UR5, UR5e, UR10,
UR10e, UR16, UR16e)
0.83" / 21 mm
0.65"
1.2"
6

1/2

Black
-55° to 300°
Yes
000000
000000
000000
00
Omron (TM 12, 14,
5-700, 5-900)
Universal Robots (UR3,
UR3e, UR5, UR5e, UR10,
UR10e, UR16, UR16e)
1.1" / 28 mm
0.88"
1.6"
6

1/2

Black
-55° to 300°
Yes
0000000
000000
000000
00
Omron (TM 12, 14,
5-700, 5-900)
Universal Robots (UR3,
UR3e, UR5, UR5e, UR10,
UR10e, UR16, UR16e)
1.34" / 34 mm
1.11"
2"
6

1/2

Black
-55° to 300°
Yes
0000000
000000
000000
00
Omron (TM 12, 14,
5-700, 5-900)
Universal Robots (UR3,
UR3e, UR5, UR5e, UR10,
UR10e, UR16, UR16e)
1.65" / 42 mm
1.41"
2.4"
6

1/2

Black
-55° to 300°
Yes
0000000
000000
000000
00
For Robot Arm
Manufacturer


(Series/Model No.)

Carrier
OD
For
Maximum
Cable OD
Bend
Radius
Carrier


Length,




ft.

Color
Temperature


Range,




°F

Mounting
Hardware
Included
Each
Each
FANUC (CRX 10iA, 10iA/L)
0.83" / 21 mm
0.65"
1.2"
10
Black
-55° to 300°
Yes
0000000
0000000
0000000
0000000
FANUC (CRX 10iA, 10iA/L)
1.1" / 28 mm
0.88"
1.6"
10
Black
-55° to 300°
Yes
0000000
000000
0000000
000000
FANUC (CRX 10iA, 10iA/L)
1.34" / 34 mm
1.11"
2"
10
Black
-55° to 300°
Yes
0000000
000000
0000000
000000
FANUC (CRX 10iA, 10iA/L)
1.65" / 42 mm
1.41"
2.4"
10
Black
-55° to 300°
Yes
0000000
000000
0000000
000000
Omron (TM 12, 14)
Universal Robots (UR10, UR10e,
UR16; UR16e)
0.83" / 21 mm
0.65"
1.2"
6

1/2

Black
-55° to 300°
Yes
0000000
000000
000000
00
Omron (TM 12, 14)
Universal Robots (UR10, UR10e,
UR16; UR16e)
1.1" / 28 mm
0.88"
1.6"
6

1/2

Black
-55° to 300°
Yes
0000000
000000
000000
00
Omron (TM 12, 14)
Universal Robots (UR10, UR10e,
UR16; UR16e)
1.34" / 34 mm
1.11"
2"
6

1/2

Black
-55° to 300°
Yes
0000000
000000
000000
00
Omron (TM 12, 14)
Universal Robots (UR10, UR10e,
UR16; UR16e)
1.65" / 42 mm
1.41"
2.4"
6

1/2

Black
-55° to 300°
Yes
0000000
000000
000000
00
Omron (TM 5-700, 5-900)
Universal Robots (UR5, UR5e)
0.83" / 21 mm
0.65"
1.2"
6

1/2

Black
-55° to 300°
Yes
0000000
000000
000000
00
Omron (TM 5-700, 5-900)
Universal Robots (UR5, UR5e)
1.1" / 28 mm
0.88"
1.6"
6

1/2

Black
-55° to 300°
Yes
0000000
000000
000000
00
Omron (TM 5-700, 5-900)
Universal Robots (UR5, UR5e)
1.34" / 34 mm
1.11"
2"
6

1/2

Black
-55° to 300°
Yes
0000000
000000
000000
00
Omron (TM 5-700, 5-900)
Universal Robots (UR5, UR5e)
1.65" / 42 mm
1.41"
2.4"
6

1/2

Black
-55° to 300°
Yes
0000000
000000
000000
00
Universal Robots (UR3, UR3e)
0.83" / 21 mm
0.65"
1.2"
6

1/2

Black
-55° to 300°
Yes
0000000
000000
000000
00
Universal Robots (UR3, UR3e)
1.1" / 28 mm
0.88"
1.6"
6

1/2

Black
-55° to 300°
Yes
0000000
000000
000000
00
Universal Robots (UR3, UR3e)
1.34" / 34 mm
1.11"
2"
6

1/2

Black
-55° to 300°
Yes
000000
000000
000000
00
Universal Robots (UR3, UR3e)
1.65" / 42 mm
1.41"
2.4"
6

1/2

Black
-55° to 300°
Yes
0000000
000000
000000
00

For Robot Arm
Manufacturer


(Series/Model No.)

Carrier
OD
For
Maximum
Cable OD

- I

For
Maximum
Cable OD - II
Bend
Radius
Carrier


Length,




ft.

Color
Mounting
Hardware
Included
Includes
Each
FANUC (CR 7iA/L)
1.69" / 43 mm
0.59"
0.51"
2.3"
5

1/2

Black
Yes
__
0000000
000000000
FANUC (LR Mate 200iD, 200iD/7C, 200iD/7WP, 200iD/7H)
1.69" / 43 mm
0.59"
0.51"
2.3"
1
Black
Yes
__
0000000
00000000
FANUC (LR Mate 200iD/7LC, 200iD/7L)
1.69" / 43 mm
0.59"
0.51"
2.3"
1

1/2

Black
Yes
__
0000000
00000000
FANUC (M-710iC 45M, 50, 50T, 70, 70T)
2.56" / 65 mm
0.89"
0.77"
3.4"
8
Black
Yes
Retraction System
0000000
00000000
FANUC (M-710iC 45M, 50, 50T, 70, 70T)
2.56" / 65 mm
0.89"
0.77"
3.4"
9
Black
Yes
Retraction System
0000000
00000000
FANUC (R-2000iA 130U, 165F, 165R, 200F, 200FO, 200R, 210F; R-2000iB 100H, 150U, 165F, 165R, 200R, 210F, 210WE, 220U, 250F; R-2000iC 165F, 210F, 165R, 210R)
2.56" / 65 mm
0.89"
0.77"
3.4"
9
Black
Yes
Retraction System
0000000
00000000
FANUC (R-2000iA 130U, 165F, 165R, 200F, 200FO, 200R, 210F; R-2000iB 100H, 150U, 165F, 165R, 200R, 210F, 210WE, 220U, 250F; R-2000iC 165F, 210F, 165R, 210R)
3.72" / 94 mm
1.3"
1.1"
5.3"
9
Black
Yes
Retraction System
0000000
00000000