Auto-Reversing

Tap Holders for Jacobs Taper Shanks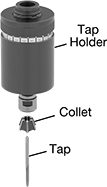 Also known as tapping heads, these holders instantly reverse, allowing you to back out of a hole once it has been tapped without stopping the machine's motor. Use them for fast, precise tapping on manually operated drill presses and milling machines. Each holder comes with a chart that indicates the maximum speed, which may be lower depending on the tap size and workpiece material. Collets (sold separately) are required to connect the tap to the holder.
For technical drawings and 3-D models, click on a part number.
For Tap Size
For Tap
Pipe Size

For
Use On

Max.




Speed,

rpm
Material
Each
No. 0, No. 1, No. 2, No. 3, No. 4, No. 5, No. 6, No. 8, No. 10, No. 12,

1/8

",

3/16

",

7/32

",

1/4

", M1.4, M1.6, M1.8, M2, M2.2, M2.5, M3, M3.5, M4, M4.5, M5, M6, M6.3, M7
__
Steel
2,000
Steel
0000000
0000000
No. 6, No. 8, No. 10, No. 12,

1/8

",

3/16

",

7/32

",

1/4

",

9/32

",

5/16

",

11/32

",

3/8

",

7/16

",

15/32

",

1/2

", M3, M3.5, M4, M4.5, M5, M6, M6.3, M7, M8, M9, M10, M11, M12

1/16

,

1/8

Steel
1,500
Steel
0000000
00000000