Machinable Lathe Chuck Jaws
Machine these jaws to fit the curves and edges of your unique workpiece for a tighter hold and more stability than standard hardened jaws. They have industry standard 1.5 mm x 60° serrations, which mount to most CNC lathe chucks from Kitagawa, LMC, Samchully, Seoam, and Auto Strong. Attach to your chuck with jaw nuts (not included). For the tightest fit to your workpiece, use boring rings to hold your jaws in place while machining.
Pointed jaws provide three points of contact on the workpiece. They are the best choice for most custom workholding.
Full-grip jaws surround the workpiece for maximum grip from every angle, ensuring an exact fit on thin or intricate parts.
Aluminum jaws are lighter in weight than steel and can be turned at higher speeds with less wear on your machine.
Steel jaws are more durable than aluminum. For repeated use, harden them after machining.
For technical drawings and 3-D models, click on a part number.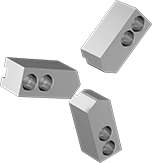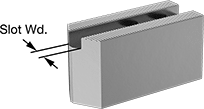 For Lathe
Chuck

Dia.

Ht.

Lg.

Wd.

Slot


Wd.

No.

of
Pieces
Serration Size
For Screw
Size

Mounting Hole


Ctr.-to-Ctr.

Weight,




lbs.

Each

6061 Aluminum

6"
1

1/2

"
3"
1

1/4

"
0.472"
3
1.5 mm × 60°
M10

0.787"
1.2
0000000
000000
6"
2"
3"
1

1/4

"
0.472"
3
1.5 mm × 60°
M10

0.787"
1.8
00000000
00000
6"
3"
3"
1

1/4

"
0.472"
3
1.5 mm × 60°
M10

0.787"
2.4
00000000
00000
8"
2"
4"
1

1/2

"
0.551"
3
1.5 mm × 60°
M12

0.984"
3
00000000
00000
8"
3"
4"
1

1/2

"
0.551"
3
1.5 mm × 60°
M12

0.984"
4.2
00000000
00000
8"
4"
4"
1

1/2

"
0.551"
3
1.5 mm × 60°
M12

0.984"
5.7
00000000
00000
10"
2"
4

1/2

"
1

1/2

"
0.63"
3
1.5 mm × 60°
M12

1.181"
3.3
00000000
00000
10"
3"
4

1/2

"
1

1/2

"
0.63"
3
1.5 mm × 60°
M12

1.181"
4.8
00000000
00000
10"
4"
4

1/2

"
1

1/2

"
0.63"
3
1.5 mm × 60°
M12

1.181"
6.6
00000000
000000
12"
2"
5

1/2

"
2"
0.827"
3
1.5 mm × 60°
M16

1.181"
5.4
00000000
00000
12"
3"
5

1/2

"
2"
0.827"
3
1.5 mm × 60°
M16

1.181"
7.8
0000000
000000
12"
4"
5

1/2

"
2"
0.827"
3
1.5 mm × 60°
M16

1.181"
10.5
00000000
000000
15"
3"
6

1/2

"
2

1/2

"
0.866"
3
1.5 mm × 60°
M20

1.693"
11.4
00000000
000000
15"
4"
6

1/2

"
2

1/2

"
0.866"
3
1.5 mm × 60°
M20

1.693"
15.3
00000000
000000

1018 Carbon Steel

6"
1

1/2

"
3"
1

1/4

"
0.472"
3
1.5 mm × 60°
M10

0.787"
3.5
00000000
00000
6"
2"
3"
1

1/4

"
0.472"
3
1.5 mm × 60°
M10

0.787"
4.7
00000000
00000
6"
3"
3"
1

1/4

"
0.472"
3
1.5 mm × 60°
M10

0.787"
7.1
00000000
00000
8"
2"
4"
1

1/2

"
0.551"
3
1.5 mm × 60°
M12

0.984"
8.1
00000000
00000
8"
3"
4"
1

1/2

"
0.551"
3
1.5 mm × 60°
M12

0.984"
12.3
00000000
00000
8"
4"
4"
1

1/2

"
0.551"
3
1.5 mm × 60°
M12

0.984"
16.2
00000000
000000
10"
2"
4

1/2

"
1

1/2

"
0.63"
3
1.5 mm × 60°
M12

1.181"
9.1
0000000
00000
10"
3"
4

1/2

"
1

1/2

"
0.63"
3
1.5 mm × 60°
M12

1.181"
13.8
00000000
000000
10"
4"
4

1/2

"
1

1/2

"
0.63"
3
1.5 mm × 60°
M12

1.181"
18.5
00000000
000000
12"
2"
5

1/2

"
2"
0.827"
3
1.5 mm × 60°
M16

1.181"
15
00000000
000000
12"
3"
5

1/2

"
2"
0.827"
3
1.5 mm × 60°
M16

1.181"
22.5
00000000
000000
12"
4"
5

1/2

"
2"
0.827"
3
1.5 mm × 60°
M16

1.181"
30.3
00000000
000000
15"
3"
6

1/2

"
2

1/2

"
0.866"
3
1.5 mm × 60°
M20

1.693"
33.1
00000000
000000
15"
4"
6

1/2

"
2

1/2

"
0.866"
3
1.5 mm × 60°
M20

1.693"
45
00000000
000000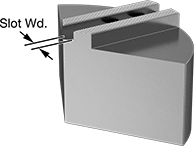 For Lathe
Chuck

Dia.

Ht.

Dia.

Slot


Wd.

No.

of
Pieces
Serration Size
For Screw
Size

Mounting Hole


Ctr.-to-Ctr.

Weight,




lbs.

Each
6"
2"
6"
0.472"
3
1.5 mm × 60°
M10

0.787"
5.7
00000000
000000
6"
3"
6"
0.472"
3
1.5 mm × 60°
M10

0.787"
8.1
00000000
000000
6"
4"
6"
0.472"
3
1.5 mm × 60°
M10

0.787"
10.8
0000000
000000
8"
2"
8"
0.551"
3
1.5 mm × 60°
M12

0.984"
10.2
00000000
000000
8"
3"
8"
0.551"
3
1.5 mm × 60°
M12

0.984"
14.7
00000000
000000
8"
4"
8"
0.551"
3
1.5 mm × 60°
M12

0.984"
19.8
00000000
000000
10"
2"
10"
0.63"
3
1.5 mm × 60°
M12

1.181"
16.2
00000000
000000
10"
3"
10"
0.63"
3
1.5 mm × 60°
M12

1.181"
24
00000000
000000
10"
4"
10"
0.63"
3
1.5 mm × 60°
M12

1.181"
31.5
00000000
000000
12"
2"
12"
0.827"
3
1.5 mm × 60°
M16

1.181"
23.4
00000000
000000
12"
3"
12"
0.827"
3
1.5 mm × 60°
M16

1.181"
34.2
00000000
000000
12"
4"
12"
0.827"
3
1.5 mm × 60°
M16

1.181"
45.3
00000000
000000
15"
3"
15"
0.866"
3
1.5 mm × 60°
M20

1.693"
53.7
0000000
000000
15"
4"
15"
0.866"
3
1.5 mm × 60°
M20

1.693"
70.8
00000000
000000