Ultra-Dense

Corrosion-Resistant

Tungsten Rods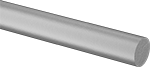 Yield

Strength:

85,

000 psi

Hardness:

Rockwell C28

Temper

Rating:

Not Rated
Specifications

Met:

ASTM B777
This tungsten alloy is strong, corrosion resistant, and extremely dense. It's dense enough to use as a lead alternative to shield from radiation, a vibration dampener in small spaces for equipment such as helicopter blades, and as crankshaft weights. Its density also means it won't lose its shape under extreme conditions. Because this alloy has good tensile strength, it's often used to protect electrical components in applications such as radiography. However, the high tungsten levels that give it good tensile strength also give it poor impact strength—it's more brittle than similar alloys. This alloy won't corrode when exposed to outside elements and chemicals. Containing nickel and iron, it's easier to machine than pure tungsten and tungsten carbide. It won't expand at high temperatures.
For technical drawings and 3-D models, click on a part number.

Certificates with a traceable lot number are available for these products. Download certificates from ORDER HISTORY after your order ships.