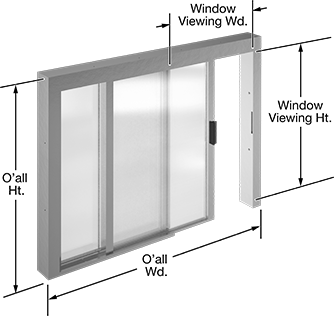 Half Track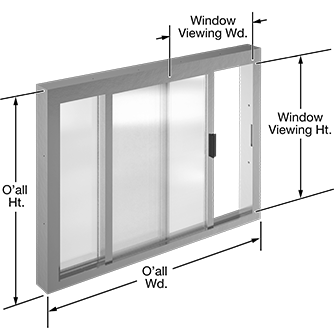 Full Track
Create an access point for exchanging documents, money, and small goods without needing to enter or exit the building. By limiting the number of people entering a building or room and acting as a protective barrier, these sliding windows help protect against airborne particles from coughs and sneezes, while still allowing you to interact with customers.
Manual windows will stay open until you pull them shut. They're best if you often need to make multiple trips and may not have a free hand to open the window every time.
Self-closing windows slide shut when you release them, so there's no need to set down what's in your hands to close them manually. This limits the amount of time the window is open, and reduces the spread of germs between individuals. If you're transferring objects with both hands, prop open the window first.
Aluminum frame windows resist light rust and corrosion. Their half track creates more space to transfer goods than full tracks, and makes it simple for customers to pick up materials from their car. Slide materials across a counter instead of lifting them over a full track. They're not recommended for exterior applications but if they're used outdoors, an overhang is recommended to protect from rain.
Stainless steel frame windows have excellent rust and corrosion resistance. They have a full track that blocks rain from getting inside.
For technical drawings and 3-D models, click on a part number.
For Minimum
Wall
Thickness
Height
Width
Height
Width
Height
Width
For
Use
Outdoors
Mounting
Fasteners
Included
Number
of
Screw
Size

Each

Manual

4"
36"
48"
35

3/4

"
47

1/2

"
32"
21

1/4

"
No
Yes
10
No. 10

0000000
000000000

Self Closing

4

1/2

"
36"
48"
35

3/4

"
47

1/2

"
32"
20

1/4

"
No
Yes
10
No. 10

0000000
00000000

Stainless Steel

(Full Track)

Manual

4"
36"
48"
35

3/4

"
47

1/2

"
31"
21

1/4

"
Yes
Yes
10
No. 10

0000000
00000000