Boot Drying Racks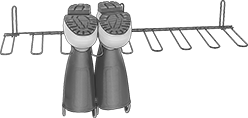 Hang wet boots to dry them out. These racks mount to the wall and fit a maximum of four pairs of boots.
PVC-coated steel resists acids and solvents better than epoxy-coated steel.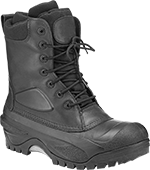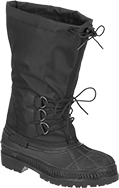 Keep feet warm and dry in frigid temperatures with these insulated boots. They have a safety toe that's made of steel or lightweight composite and meets ASTM F2413 standards for protection against impact and compression.
Men's boots are made of oil- and water-resistant leather. They are mid-calf boots.
Women's boots are made of oil-resistant rubber and are knee-high.
Men's


Shoe Size

Women's


Shoe Size
3
5
4
6
5
7
6
8
7
9
8
10
9
11
10
12
11
13
12
14
13
15
14
16
Socks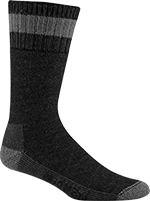 Wool
These crew length socks keep your feet sweat-free and add a layer of cushion to your shoes.
Wool blend is warmer than cotton/nylon for use in cold conditions.
For

Men's


Shoe Size
For

Women's


Shoe Size
5
6
7
8
9
7
8
9
10
11
9
10
11
12
11
12
13
14
12
13
14
15
14
15
16
17
15
16
17
17
18
19