How to

Identify and Measure Fittings
Pipe size is an industry designation, not the actual size. View information about how to measure threaded and unthreaded pipe and pipe fittings.
30° Flared

Fittings for Steel Tubing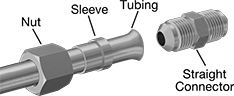 For Use

With:

Air,

Cutting

Oil,

Diesel

Fuel,

Fuel

Oil,

Gasoline,

Hydraulic

Fluid,

Mineral

Oil,

Water
Specifications

Met:

See table

Tubing:

Use with steel
Also known as JIS (Japanese Industrial Standard) fittings, these have a 30° flare on one or both ends. Fittings are zinc-plated steel for fair corrosion resistance.
UN/UNF (SAE Straight) male threads have a gasket to protect against leaks. They are also known as O-ring boss threads.
For technical drawings and 3-D models, click on a part number.
Low-Pressure

Steel Unthreaded Pipe Flanges
Bolt two flat-surface flanges or two raised-surface flanges of the same size together with a gasket (sold separately) to create an access point in a pipe line. Flanges are for use with low-pressure applications in noncorrosive environments.
Butt-weld flanges are also known as weld-neck flanges. The flange neck has a beveled end that, when flush to pipe, creates a trough for a strong weld.
Slip-on weld flanges have no internal stop. Slide a pipe through the flange and weld on both sides.
Cap flanges are also known as blind flanges.
For technical drawings and 3-D models, click on a part number.

Front

Raised Surface on Back
For Use

With:

Air,

Natural

Gas,

Oil,

Steam,

Water
Pressure

Class:

See table
Specifications

Met:

See table

Certification:

See table
Pipe Nipples and

Pipe:

Use Schedule 40 steel

Fittings:

Use Schedule 40 iron or steel
Pipe
Size

Wall


Thick.

Flange
OD
For
Bolt


Dia.

Dia.

No.


of
Bolt
Circle


Dia.

Construction

Max.


Pressure

Max.


Steam
Pressure
Specifications
Met
Each
1

0.144"
4

59/64

"

5/8

"
0.748"
4
3

35/64

"
Seamless
Not Rated
Not Rated
ASTM A105, JIS B 2220
0000000
000000
1

1/2

0.137"
5

33/64

"

5/8

"

3/4

"
4
4

9/64

"
Seamless
Not Rated
Not Rated
ASTM A105, JIS B 2220
0000000
000000
2

0.157"
6

7/64

"

5/8

"

3/4

"
4
4

23/32

"
Seamless
Not Rated
Not Rated
ASTM A105, JIS B 2220
0000000
000000
Inch Slip-On Weld Flanges

Front

Raised Surface on Back
For Use

With:

Air,

Natural

Gas,

Oil,

Steam,

Water
Pressure

Class:

See table
Specifications

Met:

See table

Certification:

See table
Pipe Nipples and

Pipe:

Use Schedule 40 steel

Fittings:

Use Schedule 40 iron or steel
Pipe
Size

Flange
OD
For Bolt


Dia.

Dia.

No.


of
Bolt Circle


Dia.

Max.


Pressure

Max.

Steam
Pressure
Specifications Met
Each
1

4

59/64

"

5/8

"
0.748"
4
3

35/64

"
Not Rated
Not Rated
ASTM A105, JIS B 2220
0000000
000000
1

1/2

5

33/64

"

5/8

"
0.748"
4
4

9/64

"
Not Rated
Not Rated
ASTM A105, JIS B 2220
0000000
00000
2

6

7/64

"

5/8

"
0.748"
4
4

23/32

"
Not Rated
Not Rated
ASTM A105, JIS B 2220
0000000
00000

Front

Raised Surface on Back
For Use

With:

Air,

Natural

Gas,

Oil,

Steam,

Water
Pressure

Class:

See table
Specifications

Met:

See table

Certification:

Material Certificate with Traceable Lot Number and Test Report
Pipe Nipples and

Pipe:

Use Schedule 40 steel

Fittings:

Use Schedule 40 iron or steel
Pipe
Size

Flange
OD
For Bolt


Dia.

Dia.

No.


of
Bolt Circle


Dia.

Max.


Pressure

Max.

Steam
Pressure
Specifications Met
Each
1

4

59/64

"

5/8

"
0.748"
4
3

35/64

"
Not Rated
Not Rated
ASTM A105, JIS B 2220
0000000
000000
1

1/2

5

33/64

"

5/8

"
0.748"
4
4

9/64

"
Not Rated
Not Rated
ASTM A105, JIS B 2220
0000000
00000
2

6

7/64

"

5/8

"
0.748"
4
4

23/32

"
Not Rated
Not Rated
ASTM A105, JIS B 2220
0000000
00000