Temporary Partition Poles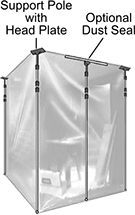 Use these telescoping poles with tarps, drop cloths, and plastic sheeting up to 8 mils thick to create a sturdy, temporary wall and control dust and debris. Poles have a head plate with a nonskid pad to protect your ceiling.
Replace head plates with dust seals (sold separately) for extra protection. These aluminum bars with foam padding press tightly to the ceiling.
Zippered doorway kits (sold separately) include two zippers and a knife to cut sheeting. Use one zipper for a narrow opening; use both to create a larger, roll-up entryway.