Contact-Sensing

Robot Safety Padding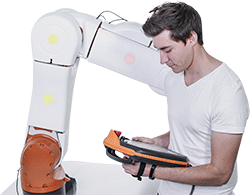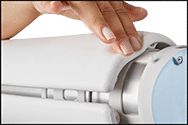 Cover robot arms and tools with this padding to help prevent injuries in areas where people are working nearby. When the padding is touched, pressure sensors signal your machine to stop moving, halting it within nine milliseconds. If a collision takes place, the soft polyurethane foam will lessen the impact. With this padding installed, you can operate robots closer to people and at higher speeds than with other safety equipment, such as machine guards. You can also combine it with other equipment to create multi-step safety systems.
Each pad has LEDs that change color to indicate their status. When the lights are blue, the padding is fully operational. Pads that sense a pressure change turn red and the surrounding pads turn yellow, clearly showing the impact area. They're powered by internal micropumps, so you don't need an outside compressed air source. The double circuit design makes sure that if one circuit fails, the other will continue to function.
All components meet international design standards for safety. Using this padding helps you meet ISO/TS 15066 standards for safe interactions between humans and robots. Before running robots, you should carry out a safety risk assessment as described in ANSI/RIA R15.06 to ensure a safe environment for those working near the robot.
For technical drawings and 3-D models, click on a part number.

Flange senses pressure in any direction through the robot tool as well as direct contact with the flange
itself.

Flange

Flanges are compatible with most robot tools and accessories, so you can switch out different tools without needing custom fit padding for each one. However, flanges are not as sensitive as custom-fit padding, and they extend the length of your robot arm. They come with a controller, cables, and adapters that match several common mounting patterns. If you don't see your robot model number listed, measure the bolt circle diameter to determine mounting compatibility.
Robot Tool and
End of Robot Arm

For Robot Arm
Manufacturer


(Series/Model Number)

Mount
Type
Bolt Circle

Dia.




(Mount.

Hole
Pattern

Compatibility)

Bolts
Included
Sensor
Response


Time,

ms

Max.


Load


Cap.,

kg

Wt.

Includes
Specifications
Met
Each

Polyurethane Foam

ABB (IRB 360 6/1600, 8/1130;
IRB 120; IRB 140; IRB 1200; IRB 1410;
IRB 1600; IRB 2400; IRB 2600)
FANUC (CR 4iA, 7iA; CRX
10iA, 10iA/L; LR Mate 200iD/7L; M-20 iA)
KUKA Robotics (KR 10 R1100-2)
Omron (TM 5, 12, 14)
Precise Automation (PAVP6; PF3400;
PP100)
Productive Robotics (OB7)
Staubli (TX2 90)
Universal Robots (UR3; UR3e; UR5;
UR5e; UR10; UR10e; UR16; UR16e)
Yaskawa/Motoman (GP 7, 8; MH 3BM,
3F, 5LS II, 5S II; MPP 3H, 3S)
Bolt On
31.5 mm (ISO 31.5)
40 mm (ISO 40)
50 mm (ISO 50)
Yes
9
20
14.3 lbs. / 6.5 kg
One Controller-to-Padding Cable (5 m Lg), One Padding-to-Padding Cable (400 mm Lg), Three Payload Springs, Three Robot-Side Flange Adapters, Three Tool-Side Flange Adapters, Safety Padding Controller, Safety Padding Flange
ISO/TS 15066, ISO 13849-1 PLe, IEC 62061, TUV Rheinland Certified, C-TUV Rheinland Certified, UL 94 V-2, CE Marked
00000000
000000000