Quick-Set

Epoxy Structural Adhesives
For quick repairs, these epoxies begin to harden in 6 minutes or less. Epoxies are the strongest and most weather- and chemical-resistant structural adhesives.
The size listed is the combined total of the two parts. Use cartridges with a dispensing gun and mixer nozzle to simultaneously mix and dispense adhesives.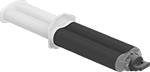 Name

No.

Size,




fl.




oz.

Type
Begins
to
Harden
Reaches
Full
Strength

Shear,




lbs./sq.




in.

Peel,




lbs./in.




wd.

Mix
Ratio
Consistency


(Viscosity)

Temp.




Range,




°F

Color
For
Joining
Each
1 Minute Epoxy
14277
1.69
Cartridge
60 sec.
2 hrs.
1,600
2
1:1
Gel (70,000 cP)
-40° to 200°
Amber
Metal, Plastic, Masonry, Wood
00000000
000000
5 Minute Epoxy
14240
0.84
Syringe
5 min.
48 hrs.
2,500
2
1:1
Gel (Not Rated)
-40° to 200°
Amber
Metal, Plastic, Masonry, Wood
0000000
00000
5 Minute Epoxy
14265
1.69
Cartridge
5 min.
48 hrs.
2,500
2
1:1
Gel (Not Rated)
-40° to 200°
Amber
Metal, Plastic, Masonry, Wood
00000000
00000