Disposable Glove Recycling Containers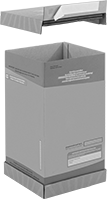 Recycle up to 45 lbs. of disposable gloves—these containers keep all of your used gloves isolated to prevent the spread of contaminants in your facility. Use them for latex, nitrile, vinyl, and plastic gloves. Do not recycle cotton or leather gloves, or any items that may contain hazardous waste.
These containers come with a paid shipping label for sending the gloves to a recycling facility when the container is full. To help ensure that your facility complies with waste-processing rules, there's an online system where you can track containers, access reports on how much waste you've recycled, and obtain certificates of recycling. If you always want to receive a new container after sending in a full one, opt in to automatic ordering to save time. These containers ship flat when empty, which conserves storage space until you're ready to use them.
Containers cannot be sold to the regions listed below due to transportation regulations.
Weight


Capacity,

lbs.

Width
Depth
Height
Material
Cannot Be Sold To
Each
45
14"
14"
24"
Cardboard
AK, HI, Outside United States, PR
0000000
0000000