A-Frame

Sheet and Panel Trucks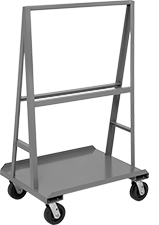 Solid Platform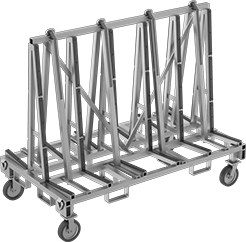 Open Platform
Load these trucks from either side to make quick work of moving large quantities of long, flat material such as doors, partitions, and sheet stock. Their nonmarking phenolic wheels roll best on smooth surfaces.
Trucks with a solid platform have a lip along the length of the platform to keep loads from sliding off. Four swivel casters make these trucks easy to maneuver.
Trucks with an open platform have tie-down straps with quick-tight cam-style buckles to secure loads and rubber-padded raised ends to prevent damage to loads. Two swivel casters and two rigid casters make these trucks easy to steer; wheel brakes keep trucks stationary during loading and unloading. Use the forklift pockets to lift and move trucks with a forklift. Trucks have a quick-release pin to convert to storage racks by removing the casters. Overall height is reduced by 11" without casters.
O'all




Cap.,




lbs.

Lg.

Wd.

Ht.

O'all




Ht.

Lip
Height

Wd.


per
Side

Ht.

No.

of
Usable
Sides
Wheel
Configuration
Brake
Type
Caster
Mount
Type

Dia.

Material
Type
Assembled
or
Unassembled
Each

Solid Platform

Gray

Powder-Coated

Steel Platform and Frame

2,000
36"
24"
7

3/4

"
57"
1"
6"
48"
2
Four Swivel Casters
None
Replaceable
6"
Phenolic Plastic
Solid
Assembled
0000000
0000000
2,000
48"
24"
7

3/4

"
57"
1"
6"
48"
2
Four Swivel Casters
None
Replaceable
6"
Phenolic Plastic
Solid
Assembled
0000000
000000
2,000
48"
30"
7

3/4

"
57"
1"
9"
48"
2
Four Swivel Casters
None
Replaceable
6"
Phenolic Plastic
Solid
Assembled
0000000
000000
2,000
60"
30"
7

3/4

"
57"
1"
9"
48"
2
Four Swivel Casters
None
Replaceable
6"
Phenolic Plastic
Solid
Assembled
0000000
000000
2,000
72"
36"
7

3/4

"
57"
1"
12"
48"
2
Four Swivel Casters
None
Replaceable
6"
Phenolic Plastic
Solid
Assembled
0000000
000000

Open Platform

Galvanized Steel Platform and Frame

4,000
82"
44"
19"
69"
__
15"
48"
2
Two Swivel and Two Rigid Casters
Wheel Brake

Replaceable
8"
Phenolic Plastic
Solid
Assembled
0000000
00000000
4,000
96"
44"
19"
81"
__
16"
60"
2
Two Swivel and Two Rigid Casters
Wheel Brake

Replaceable
8"
Phenolic Plastic
Solid
Assembled
0000000
00000000