Convertible
Hand/Platform

Trucks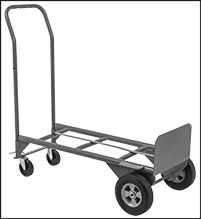 (A)
In Platform Truck Position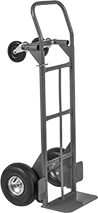 A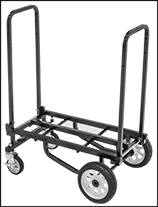 (B)
In Platform Truck Position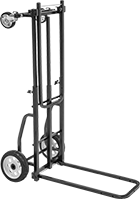 B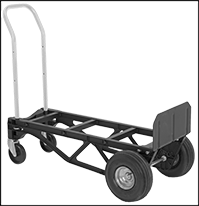 (C)
In Platform Truck Position
C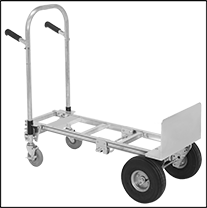 (D)
In Platform Truck Position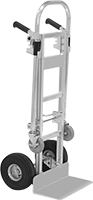 D
Quickly convert these trucks from hand truck to platform truck to carry a variety of loads in either a horizontal or vertical position.
Steel trucks are strong and durable.
Fiberglass trucks are lighter than steel and an economical alternative to aluminum.
Aluminum trucks are lightweight and strong.
Styles A and C have removable handles that let you convert the truck.
Style B convert with a telescoping frame and folding handles.
Styles B and C have stair glides that let you easily move your load up and down stairs and over curbs.
Style D have a quick-convert lever that releases the platform to fold down when needed and to lock against the frame when not in use.
Polypropylene wheels are lightweight and work on smooth surfaces. Rubber tread-on-core wheels have a hard core for strength surrounded by a shock- and sound-absorbing tread for a cushioned ride on all surfaces. Polyurethane tread-on-core wheels have a hard core for strength and an abrasion-resistant, shock-absorbing, and nonmarking tread for cushioning. Use them on all floor types, including areas with debris. Flat-free rubber wheels won't go flat, and provide a cushioned ride. Pneumatic rubber wheels provide a cushioned ride over the roughest surfaces, such as gravel.
Style

O'all




Cap.,




lbs.

Lg.

Ht.

Wd.

Wd.

Dp.

Handle


Ht.

Dia.

Material
Each
Each
Each

Red

Powder-Coated

Steel Frame

Solid Front Wheels and

Flat-Free

Rear Wheels

A
600 (Hand Truck)
600 (Platform)
36"
12"
12"
14"
8"
39" (Platform)
46"-61" (Hand Truck)
4"
8"
Polypropylene Plastic
Rubber
0000000
0000000
00000000
000000
00000000
000000

Solid Front Wheels and Pneumatic Rear Wheels

A
800 (Hand Truck)
800 (Platform)
36"
12"
12"
14"
8"
40

1/2

" (Platform)
46"-61" (Hand Truck)
5"
10"
Polypropylene Plastic
Rubber
0000000
000000
00000000
00000
00000000
00000

Black

Powder-Coated

Steel Frame

B
500 (Hand Truck)
500 (Platform)
28"-42

1/2

"
9

1/2

"
12

1/2

"
10

1/4

"
24"
24"
4"
8"
Rubber
Polyurethane Rubber, Rubber
000000
000000
0000000
00000
0000000
00000
B
500 (Hand Truck)
500 (Platform)
34"-52"
9

1/2

"
13

1/2

"
11"
32"
32"
5"
8"
Rubber
Polyurethane Rubber, Rubber
000000
000000
0000000
00000
0000000
00000

Black Fiberglass Frame

Solid Front Wheels and Pneumatic Rear Wheels

C
600 (Hand Truck)
600 (Platform)
37

1/4

"
10

1/2

"
12"
14

1/2

"
7"
37

1/2

" (Platform)
49

1/2

" (Hand Truck)
5"
10"
Polypropylene Plastic
Rubber
0000000
000000
0000000
00000
000000
00

Aluminum Frame

Tread-on-Core

Front Wheels and Pneumatic Rear Wheels

D
1,200 (Platform)
600 (Hand Truck)
38

1/4

"
11"
12"
18"
9"
41" (Platform)
52" (Hand Truck)
5"
10"
Rubber
0000000
000000
000000
00
000000
00
D
1,200 (Platform)
600 (Hand Truck)
51

1/2

"
11"
12"
18"
9"
46" (Platform)
61

1/2

" (Hand Truck)
5"
10"
Rubber
0000000
000000
000000
00
000000
00