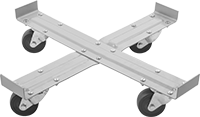 A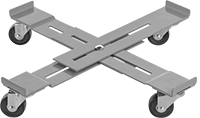 B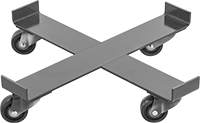 C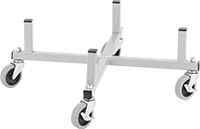 D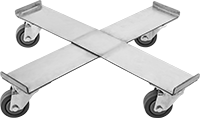 E
Open platforms on these dollies allow liquid to pass through, while a lip on each corner keeps loads from sliding off. Four swivel casters make these easy to maneuver. Dollies can transport square cartons and crates in addition to round drums.
Style B are adjustable to fit different size loads.
Style C are welded for added durability.
Style D have a 4" high lip on each corner, making them best for supporting taller drums or drums with top-heavy loads. They're also welded for durability.
Style E are made of welded, corrosion-resistant 304 stainless steel for use in harsh environments.
Use dollies with polypropylene or plastic wheels on smooth surfaces. Dollies with rubber wheels absorb shock to roll over smooth or rough surfaces.
Style
For
Container


Cap.,

gal.

O'all




Cap.,




lbs.

Lg.

Wd.

O'all




Ht.

Platform


Ht.

Lip


Ht.

Color
Gauge

Thick.

Caster
Mount
Type

Dia.

Material
Type
Each

Painted Steel

A
55
1,000
24"
3

1/2

"
5

1/8

"
4"
1

1/2

"
Gray
13
__
Replaceable
3"
Polypropylene Plastic
Solid
0000000
000000
B
30
1,000
14

1/4

"-19

1/4

"
4

1/8

"
5

1/4

"
4

1/4

"
1"
Orange
7
__
Permanent
3"
Rubber
Solid
0000000
000000
B
85
1,000
23

1/2

"-36

1/2

"
4

1/8

"
5

1/4

"
4

1/4

"
1"
Orange
7
__
Permanent
3"
Rubber
Solid
0000000
000000
C
15
1,000
16"
4"
6"
4"
2"
Blue
__

1/4

"
Permanent
3"
Rubber
Solid
0000000
000000
C
55
1,000
24

1/2

"
4"
6"
4"
2"
Blue
__

1/4

"
Permanent
3"
Rubber
Solid
0000000
000000
D
20
1,400
22

1/2

"
1"
8

1/2

"
4

1/2

"
4"
Gray
11
__
Replaceable
3"
Plastic
Solid
0000000
000000

304 Stainless Steel

E
55
800
24"
4

1/2

"
4

13/16

"
4

1/16

"

3/4

"
__
10
__
Permanent
3"
Rubber
Tread on Core
0000000
000000