Drum Trucks
These two-wheeled trucks are good for moving drums short distances. Trucks cradle the drum during transport. They have load wedges that slide under the drum for lifting.
Trucks with a rim catch clamp to the top of the drum to secure it.
Spring-loaded axles make it easier to tilt the trucks and get them rolling.
Style A and B trucks have a kickstand to keep them upright when not in use.
Style C trucks have load rollers for easy loading and unloading of drums from pallets.
Style D trucks have a strap with spring-loaded cinching buckle to secure drums. They stand upright on their own.
Polypropylene wheels are lightweight and work on smooth surfaces. Rubber tread-on-core wheels have a hard core for strength surrounded by a shock- and sound-absorbing tread for a cushioned ride on all surfaces. Steel wheels are rugged but noisy and can damage floors. They roll best on smooth surfaces.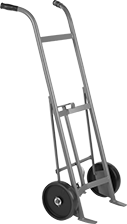 A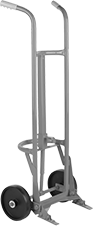 B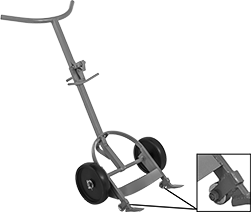 C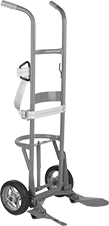 D
Style

Cap.,




gal.

Dia.

Ht.

Type

O'all




Cap.,




lbs.

Wd.

Ht.

Wheel


Dia.

Wheel
Material
Wheel
Type
Features
Each

Orange Painted Steel

Adjustable Rim Catch

A
30, 55
18"-24"
30"-42"
Steel
1,000
25

1/2

"
59"
10"
Polypropylene Plastic
Solid
Handle Grips, Kickstand
0000000
0000000
B
30, 55, 85
17"-23"
20"-41"
Steel
1,000
23

3/4

"
61"
10"
Polypropylene Plastic
Solid
Handle Grips, Kickstand, Spring-Loaded Axle
0000000
000000
B
30, 55, 85
17"-23"
20"-41"
Steel
1,000
23

3/4

"
61"
10"
Rubber
Tread on Core
Handle Grips, Kickstand, Spring-Loaded Axle
0000000
000000
C
30, 55, 85
18"-34"
25"-48"
Fiber, Steel
1,000
24

1/2

"
59"
10"
Polypropylene Plastic
Solid
Load Rollers
000000
000000
C
30, 55, 85
18"-34"
25"-48"
Fiber, Steel
1,000
24

1/2

"
59"
10"
Rubber
Tread on Core
Load Rollers
000000
000000
C
30, 55, 85
18"-34"
25"-48"
Fiber, Steel
1,000
24

1/2

"
59"
10"
Steel
Solid
Load Rollers
000000
000000

Strap and Buckle

D
30, 55
18"-24"
28

1/2

"-50"
Fiber, Plastic, Steel
1,000
23

1/2

"
59

1/2

"
10"
Rubber
Tread on Core
Handle Grips, Spring-Loaded Axle
0000000
000000
D
30, 55, 85
18"-34"
28

1/2

"-50"
Fiber, Plastic, Steel
1,000
23

1/2

"
59

1/2

"
10"
Rubber
Tread on Core
Handle Grips, Spring-Loaded Axle
0000000
000000
Replacement Straps for Style D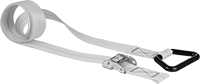 Replacement Strap