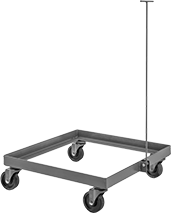 Open Platform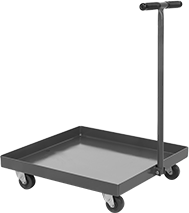 Solid Platform
A removable handle and four swivel casters make these dollies easy to push, pull, and maneuver along walls and aisles. They can be used with round drums as well as square cartons and crates.
Solid platforms provide good overall support and have a drain plug for spills and leaks.
Permanent casters are more durable than removable casters.
Polypropylene wheels are lightweight and work on smooth surfaces. Phenolic wheels are nonmarking and roll best on smooth surfaces.
For
Container


Cap.,

gal.

O'all




Cap.,




lbs.

Lg.

Wd.

Dia.

Lg.

Wd.

O'all




Ht.

Platform


Ht.

Lip


Ht.

Color
Gauge
Handle


Lg.

Wheel
Configuration
Caster
Mount
Type

Dia.

Material
Type
Each

Open Platform

Painted Steel

55
1,120
23"
23"
23"
24"
24"
7

5/16

"
5

5/16

"
2"
Gray
6
31"
Four Swivel Casters
Permanent
4"
Phenolic Plastic
Solid
0000000
0000000

Solid Platform

55
900
__
__
__
23

5/8

"
23

5/8

"
6"
4"
2"
Blue
11
28"
Four Swivel Casters
Permanent
3"
Polypropylene Plastic
Solid
0000000
000000