Easy-Turn

High-Capacity

Roller Dollies for Uneven Surfaces
Add wheels to machinery and plant equipment by slipping these dollies underneath.
Dollies with 2 rollers have a swivel top platform for easy turning and a tilt plate that compensates for uneven floors. Use the 5-1/4" long side bar to ease turning dolly under load.
Dollies with 4 and 6 rollers have large center rollers and smaller end rollers for fewer contact points and easier turning over uneven surfaces. The platform has steel cleats that grip the load and keep it from slipping.
Rigid platforms are good for straight-line movement. Swivel platforms provide controlled turning.
Polyurethane rollers are quieter than steel rollers and protect your floor.
Optional steering handles help guide dollies around turns.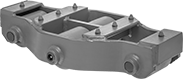 Rigid Platform with 4 Rollers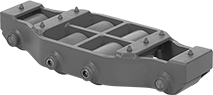 Rigid Platform with 6 Rollers
Polyurethane
Rubber Rollers

Lg.

Wd.

Ht.

Lg.

Wd.

No.

per
Dolly

Dia.

O'all




Cap.,




lbs.

Each

O'all




Cap.,




lbs.

Each

Cleated Steel Platform

19

1/2

"
11"
4

5/8

"
19

1/2

"
11"
4
3

1/4

", 3

1/2

"
20,000
0000000
0000000
30,000
0000000
0000000
23

3/4

"
11"
4

5/8

"
23

3/4

"
11"
6
3

1/4

", 3

1/2

"
40,000
0000000
00000000
__
000000
00
| | | | |
| --- | --- | --- | --- |
| 48" Lg. Steering Handle for Dollies with Cleated Steel Platform | 0000000 | Each | 0000000 |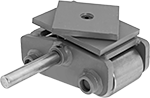 Swivel Platform with 2 Rollers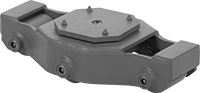 Swivel Platform with 4 Rollers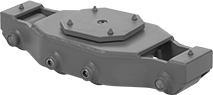 Swivel Platform with 6 Rollers
Lg.

Wd.

Ht.

Lg.

Wd.

Side
Bar


Lg.

No.


per
Dolly

Dia.

Fasteners
Included

No.


of
Holes
Hole
Thread
Size

Features

O'all




Cap.,




lbs.

Each

Polyurethane Rubber Rollers

Cleated Steel Platform

19

1/2

"
11"
5

1/4

"
7"
7"
__
4
3

1/4

", 3

1/2

"
__
__
__
__
20,000
0000000
0000000
23

3/4

"
11"
5

1/4

"
7"
7"
__
6
3

1/4

", 3

1/2

"
__
__
__
__
40,000
0000000
00000000

Steel Rollers

Smooth Steel Platform

9"
6

3/4

"
5

1/2

"
5"
5"
5

1/4

"
2
3

1/4

"
No
1

1/2

"-13

Side Bar
25,000
0000000
000000

Cleated Steel Platform

19

1/2

"
11"
5

1/4

"
7"
7"
__
4
3

1/4

", 3

1/2

"
__
__
__
__
30,000
0000000
000000
| | | | |
| --- | --- | --- | --- |
| 48" Lg. Steering Handle for Dollies with Cleated Steel Platform | 0000000 | Each | 0000000 |