Mobile Drum Dispensing Stands
Move a drum where you need it, then dispense. Also known as drum cradles, these stands are an economical way to store, mix, and drain drums. Drum rim catches secure drums and prevent them from slipping out.
Style F has load wedges that slide under the drum for easy loading and cross braces with rollers that let you rotate the drum for draining and mixing in the horizontal position.
Telescoping handles provide leverage and control when tipping a drum to empty.
Skid-resistant surfaces prevent sliding when loading.
Polypropylene and polyethylene wheels are lightweight and roll best on smooth surfaces. Rubber wheels absorb shock, are quiet, and roll over smooth or rough surfaces. Steel and aluminum wheels are rugged but noisy and can damage floors. They roll best on smooth surfaces.
Note: Length for stands with telescoping handles is with handles in the retracted position.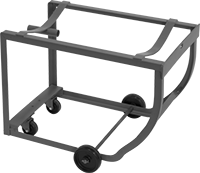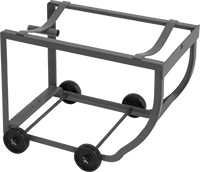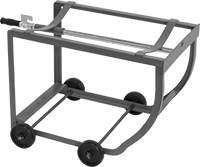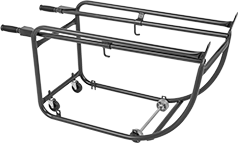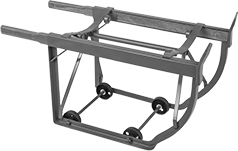 Type

Cap.,




gal.

Dia.

Ht.

O'all




Cap.,




lbs.

Dispensing


Ht.

Lg.

Wd.

Ht.

Dia.

Material
Type
Each

Style

A—

Orange Painted Steel

Stands with

Skid-Resistant

Surface

Steel
30, 55
18"-24"
29"-40"
1,000
20

3/4

"
30"
22"
22

1/2

"
5" (Front)
3" (Rear)
Rubber (Front)
Polypropylene Plastic (Rear)
Solid
000000
0000000
Steel
30, 55
18"-24"
29"-40"
1,000
20

3/4

"
30"
22"
22

1/2

"
5" (Front)
3" (Rear)
Polypropylene Plastic
Solid
000000
000000

Style

B—

Orange Painted Steel

Stands with

Skid-Resistant

Surface

Steel
30, 55
18"-24"
29"-40"
1,000
20

3/4

"
30"
22"
22

1/2

"
5"
Polypropylene Plastic
Solid
000000
000000

Style

C—

Orange Painted Steel

Stands with Telescoping Handle and

Skid-Resistant

Surface

Steel
30, 55
18"-24"
29"-40"
1,000
20

1/4

"
36

1/2

"
22"
22"
4" (Front)
2

1/2

" (Rear)
Steel
Solid
000000
000000
Steel
30, 55
18"-24"
29"-40"
1,000
20

3/4

"
36

1/2

"
22"
22

1/2

"
5" (Front)
3" (Rear)
Polypropylene Plastic
Solid
000000
000000
Steel
30, 55
18"-24"
29"-40"
1,000
20

3/4

"
36

1/2

"
22"
22

1/2

"
5" (Front)
3" (Rear)
Rubber
Solid
000000
000000

Style

D—

Orange Painted Steel

Stands with Telescoping Handle and

Skid-Resistant

Surface

Steel
30, 55
18"-24"
29"-40"
1,000
20

3/4

"
36

1/2

"
22"
22

1/2

"
5"
Polypropylene Plastic
Solid
0000000
000000

Style

E—

Green

Powder-Coated

Steel

Stands with Telescoping Handle

Plastic
Steel
30, 55
19

1/4

"-23

1/2

"
28

3/4

"-34

1/2

"
700
18

7/8

"
43

1/2

"
16

1/4

"
23

7/16

"
2

1/2

"
Aluminum (Front)
Polyethylene Plastic (Rear)
Solid
0000000
000000
Plastic
Steel
30, 55
19

1/4

"-23

1/2

"
28

3/4

"-34

1/2

"
700
18

7/8

"
43

1/2

"
16

1/4

"
23

7/16

"
5" (Front)
3" (Rear)
Polyethylene Plastic (Front)
Rubber (Rear)
Solid (Rear)
Tread on Core (Front)
0000000
000000

Style

F—

Orange Painted Steel

Stands with Load Wedges

Steel
15, 30, 55
14"-24"
29"-40"
1,000
20

1/2

"
43

1/2

"
18

1/2

"
22

1/2

"
5"
Polypropylene Plastic
Solid
000000
000000

Stands with Telescoping Handle and Load Wedges

Steel
15, 30, 55
14"-24"
29"-40"
1,000
20"
43

1/2

"
18

1/2

"
22"
4"
Steel
Solid
000000
000000
Steel
15, 30, 55
14"-24"
29"-40"
1,000
20

1/2

"
43

1/2

"
18

1/2

"
22

1/2

"
5"
Rubber
Solid
000000
000000