Solid Platform Drum Dollies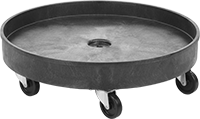 Polyethylene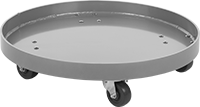 Aluminum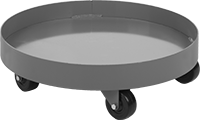 Steel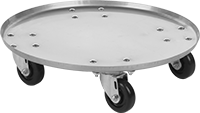 The solid platform on these dollies provides the best overall support and is lipped to keep loads from sliding off.
Polyethylene dollies are lightweight, chip resistant, and easy to clean.
Aluminum dollies are lightweight like plastic, but strong like steel.
Steel dollies have welded casters, making them strong and durable.
304 stainless steel dollies have good corrosion resistance to withstand harsh environments.
Solid polypropylene wheels are lightweight and work on smooth surfaces. Solid rubber wheels absorb shock, are quiet, and roll over smooth or rough surfaces.
For
Container


Cap.,

gal.

O'all




Cap.,




lbs.

ID

O'all




Ht.

Lip


Ht.

Color
Gauge

Thick.

Wheel
Configuration
Caster
Mount
Type

Dia.

Material
Type
Each

Polyethylene Plastic

55
500
23

1/2

"
7

1/8

"
2"
Black
__
__
Five Swivel Casters
Replaceable
3"
Polypropylene Plastic
Solid
0000000
0000000

Aluminum

55
900
24"
5

3/4

"
2"
__
__

1/4

"
Four Swivel Casters
Replaceable
3"
Polypropylene Plastic
Solid
0000000
000000

Painted Steel

30
900
19

1/4

"
5

1/2

"
2

1/2

"
Orange
12
__
Four Swivel Casters
Permanent
3"
Rubber
Solid
0000000
000000
55
900
23

1/4

"
5

1/2

"
2

1/2

"
Orange
12
__
Four Swivel Casters
Permanent
3"
Rubber
Solid
0000000
000000
85
900
29"
5

1/2

"
2

1/2

"
Orange
12
__
Four Swivel Casters
Permanent
3"
Polypropylene Plastic
Solid
0000000
000000

304 Stainless Steel

35
920
21"
5

3/8

"

7/8

"
__
14
__
Four Swivel Casters
Replaceable
3

1/2

"
Polypropylene Plastic
Solid
0000000
000000
55
920
23

1/2

"
5

1/2

"
1"
__
14
__
Four Swivel Casters
Replaceable
3

1/2

"
Polypropylene Plastic
Solid
0000000
000000