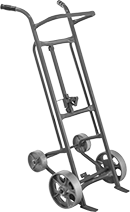 A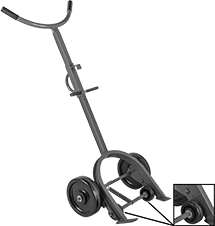 B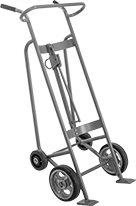 C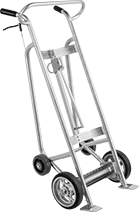 D
A second set of axle-mounted wheels offers better load support and stability to handle heavy loads over longer distances. Trucks cradle the drum during transport and are designed to stand upright on their own. Load wedges slide under the drum for easy loading.
All trucks have a rim catch that clamps to the top of the drum to secure it. Spring-loaded rim catches automatically clamp to the drum as it's tilted.
Styles A, C, and D have standard handles with grips as well as a loop handle for better control.
Style B have a heavy duty cradle and an easy-tilt axis that makes it easier to tilt the trucks and get them rolling.
Style D have a hand brake for more control on ramps and inclines.
Steel trucks are durable.
Aluminum trucks are strong, spark resistant, and lighter in weight than steel trucks.
Polypropylene wheels are lightweight and work on smooth surfaces. Rubber wheels absorb shock, are quiet, and roll over smooth or rough surfaces. Steel wheels are rugged but noisy and can damage floors. They roll best on smooth surfaces. Phenolic wheels are nonmarking and roll best on smooth surfaces, but can be noisy. Pneumatic rubber wheels provide a cushioned ride over the roughest surfaces, such as gravel.
Style

Cap.,




gal.

Dia.

Ht.

Type

O'all




Cap.,




lbs.

Wd.

Ht.

Dia.

Material
Type
Each

Adjustable Rim Catch

Orange Painted Steel

A
30, 55
18"-24"
28"-40"
Fiber, Steel
1,000
24

1/2

"
62"
10" (Front)
6" (Rear)
Polypropylene Plastic
Solid
000000
0000000
A
30, 55
18"-24"
28"-40"
Fiber, Steel
1,000
24

1/2

"
62"
10" (Front)
6" (Rear)
Rubber
Tread on Core
000000
000000
A
30, 55
18"-24"
28"-40"
Fiber, Steel
1,000
24

1/2

"
62"
10" (Front)
6" (Rear)
Steel
Solid
000000
000000
B
30, 55, 85
13"-27"
24

1/2

"-48"
Fiber, Plastic, Steel
1,000
24"
61"
4" (Front)
10" (Rear)
Phenolic Plastic
Solid
000000
000000
B
30, 55, 85
13"-27"
24

1/2

"-48"
Fiber, Plastic, Steel
1,000
25

1/4

"
61"
4" (Front)
10" (Rear)
Rubber
Tread on Core
000000
000000

Green Painted Steel

C
30, 55
19

1/4

"-23

1/2

"
23"-37"
Fiber, Plastic, Steel
1,000
24

1/2

"
59"
10" (Front)
6" (Rear)
Rubber (Front)
Polyurethane Rubber (Rear)
Solid
0000000
000000
C
30, 55
19

1/4

"-23

1/2

"
23"-37"
Fiber, Plastic, Steel
1,000
26"
59"
12

1/2

" (Front)
6" (Rear)
Rubber (Front)
Polyurethane Rubber (Rear)
Pneumatic (Front)
Solid (Rear)
0000000
000000
D
30, 55
19

1/4

"-23

1/2

"
23"-37"
Fiber, Plastic, Steel
1,000
24

1/2

"
59"
10" (Front)
6" (Rear)
Rubber (Front)
Polyurethane Rubber (Rear)
Solid
0000000
00000000

Aluminum

C
30, 55
18"-24"
23"-37"
Fiber, Plastic, Steel
1,000
24

1/2

"
59"
10" (Front)
6" (Rear)
Rubber (Front)
Polyurethane Rubber (Rear)
Solid
0000000
000000
C
30, 55
18"-24"
23"-37"
Fiber, Plastic, Steel
1,000
26"
59"
12

1/2

" (Front)
6" (Rear)
Rubber (Front)
Polyurethane Rubber (Rear)
Pneumatic (Front)
Solid (Rear)
0000000
000000
D
30, 55
18"-24"
23"-37"
Fiber, Plastic, Steel
1,000
24

1/2

"
59"
10" (Front)
6" (Rear)
Rubber (Front)
Polyurethane Rubber (Rear)
Solid
0000000
00000000