Weighing and Counting Drum Dollies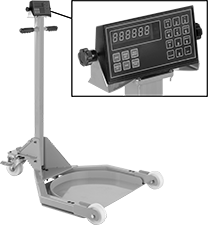 To quickly check inventory, roll these dollies wherever you need them to weigh and count the contents of drums. Their built-in scale measures weight and has an accurate piece-count mode—even while adding or removing contents from your drum. Dollies have three sensors for reliable readings on uneven floors. For loading heavy drums, they have a low-profile platform. The scale has a rechargeable battery with a USB charging cable.
Dollies cannot be sold to Canada due to energy efficiency requirements.
For
Container


Cap.,

gal.

Capacity
Accuracy
Graduations

Dia.

Dp.

Material

Ht.

Wd.

Dp.

Wheel
Configuration
Wheel
Material

No.

of
Wheel
Brakes
Batteries
Included
Includes
Platform
Shape
Each
55
1,000 lbs.
(450 kg)
±0.2 lbs.
(±0.1 kg)
0.2 lbs
(0.1 kg)
24"
24"
Steel
50"
31"
43"
One Swivel Caster and Two Axle-Mounted Wheels
Plastic
1
Yes
Calibration Instructions, USB Charging Cable
Round
0000000
000000000