About Countersinks
Countersinks cut a cone-shaped opening to install screws and rivets flush with a surface or hold workpieces between centers on a lathe. They can also be used for chamfering and deburring.
Carbon Steel
Drill-Bit

Countersink Sets

Shown with Drill Bit
(Sold Separately)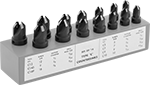 For use with plastic and wood, the countersinks in these sets attach to a drill bit (sold separately) so you can drill and countersink holes in one step. They attach to the drill bit with two set screws and the position can be adjusted for different screw lengths. The 82° countersink angle is compatible with the profile of flat- and oval-head inch screws.
Optional collar (not included) controls the cutting depth of your countersink. It attaches with two set screws.
For technical drawings and 3-D models, click on a part number.
Number
of
Pieces
Body


Dia.


Included
Number
of
Flutes
Number of
Countersinking
Ends
For
Use
On
Container
Type
Set

Uncoated Carbon Steel

7
One

3/8

" body dia. countersink for

1/8

" dia. drill bit
One

3/8

" body dia. countersink for

9/64

" dia. drill bit
One

3/8

" body dia. countersink for

5/32

" dia. drill bit
One

3/8

" body dia. countersink for

11/64

" dia. drill bit
One

3/8

" body dia. countersink for

3/16

" dia. drill bit
One

7/16

" body dia. countersink for a

13/64

" dia. drill bit
One

1/2

" body dia. countersink for a

7/32

" dia. drill bit
4
1
Plastic, Wood
Wood Stand
0000000
000000
14
One

3/8

" body dia. countersink for

1/8

" dia. drill bit
One

3/8

" body dia. countersink for

9/64

" dia. drill bit
One

3/8

" body dia. countersink for

5/32

" dia. drill bit
One

3/8

" body dia. countersink for

11/64

" dia. drill bit
One

3/8

" body dia. countersink for

3/16

" dia. drill bit
One

7/16

" body dia. countersink for a

13/64

" dia. drill bit
One

1/2

" body dia. countersink for

3/16

" dia. drill bit
One

1/2

" body dia. countersink for

13/64

" dia. drill bit
One

1/2

" body dia. countersink for a

7/32

" dia. drill bit
One

1/2

" body dia. countersink for

1/4

" dia. drill bit
One

5/8

" body dia. countersink for

3/16

" dia. drill bit
One

5/8

" body dia. countersink for

1/4

" dia. drill bit
One

5/8

" body dia. countersink for a

9/32

" dia. drill bit
One

5/8

" body dia. countersink for

5/16

" dia. drill bit
4
1
Plastic, Wood
Wood Stand
0000000
000000