Drill Bit Decimal Size Equivalents
Short-Length

Cobalt Steel Drill Bit Sets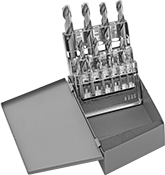 Also known as screw-machine and stub-length bits, these provide maximum rigidity for drilling straighter holes than jobbers'-length drill bits. Made of cobalt steel, which has better heat and wear resistance than high-speed steel, they can run up to 25% faster and have a longer tool life.
Drill bits with a split point keep centered without a pilot hole.
For technical drawings and 3-D models, click on a part number.
Number
of
Pieces
Drill Bit
Sizes
Included
Point
Style
For
Use
On
Each

Inch

Uncoated Cobalt Steel

15

1/16

"-

1/2

" (increments of

1/32

")
Split
Steel, Hardened Steel, Tool Steel, Iron, Stainless Steel, Nickel
0000000
0000000
29

1/16

"-

1/2

" (increments of

1/64

")
Split
Steel, Hardened Steel, Iron, Stainless Steel, Nickel
0000000
000000

Wire Gauge

Uncoated Cobalt Steel

60
60-53 ga
52-1 ga
Standard
Split
Steel, Hardened Steel, Iron, Stainless Steel, Nickel
0000000
000000

Letter

Uncoated Cobalt Steel

26
A-Z
Split
Steel, Hardened Steel, Iron, Stainless Steel, Nickel
0000000
000000