Thermal Imaging Cameras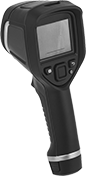 A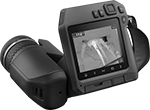 B
Detect hot spots, leaks, moisture problems, and construction defects invisible to the eye. These imaging guns translate thermal energy into a color image that indicates hotter areas as brighter and cooler areas as darker, so it's easy to identify and diagnose problems on instrument panels, HVAC systems, and other equipment. To review footage at a later date, use them to take photos and videos. The lower a camera's thermal sensitivity, the more precise heat differences it will detect for more detailed images. All are CE marked as meeting European standards for health, safety, and environmental protection. Some include a calibration certificate traceable to NIST stating they've passed a test for accuracy.
Adjustable Emissivity—For Dark, Dull, Light, Shiny Surfaces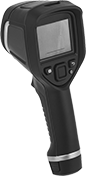 A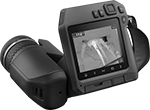 B
FDA compliant cameras are approved for use alongside other screening devices to detect differences in skin surface temperature. Use screening mode to scan large crowds of people, and these cameras will notify you when someone's temperature is above your specified range. Draw a square around a specific area to get its average temperature with the area box function, or target a specific object with the spot meter feature. A laser sight tells you how far you are from your target, so you know you're standing at a safe distance. Record verbal notes for documentation with the built-in microphone. These cameras connect to computers via Bluetooth, Wi-Fi, or a USB cable for quick data transfers.
Use cameras with a 2732° F maximum temperature in facilities with extremely hot equipment such as boilers and steam systems. A one-touch level/span function lets you focus on a single area by tapping the touch screen, giving you a temperature span and contrast level specific to that area. These cameras have a 180° rotating lens, so you can get a clear view of your target from any angle.
Cameras that cannot be sold to California do not meet local efficiency standards.
Temperature
Range
Thermal
Sensitivity


(NETD)

Resolution
Accuracy
Emissivity

Ht.

Wd.

Screen
Size
Housing
Material
Specifications
Met
Certification
Batteries
Included
Cannot
Be
Sold To
Each
A
-4° to 1200° F/-20° to 650° C
<40 mK
320 x 240
±2%
0.01 to 1
11"
4

5/8

"
4"
Plastic
CE Marked

Calibration Certificate Traceable to NIST
Yes
CA
00000000
000000000
B
-4° to 2732° F/-20° to 1500° C
<40 mK
464×348
±2%
0.01 to 1
6

5/8

"
5

1/2

"
4"
Plastic
CE Marked; FDA Compliant 21 CFR 884.2980
__
Yes
__
0000000
000000000
B
-4° to 2732° F/-20° to 1500° C
<40 mK
464×348
±2%
0.01 to 1
6

5/8

"
5

1/2

"
4"
Plastic
CE Marked; FDA Compliant 21 CFR 884.2980
Calibration Certificate Traceable to NIST
Yes
__
0000000
000000000