Claw-Clamp

High-Vacuum

Fittings for Stainless Steel Tubing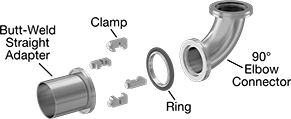 An alternative to bolt-together fittings, these handle larger tube OD sizes and have higher vacuum ratings than quick-clamp fittings. Also known as ISO-K high-vacuum fittings, the clamps have claws that grab hold of fittings with flanged ends. To complete a connection, use a ring and four clamps (sold separately). Not for use in pressure applications.
Double-claw clamps attach to the grooves on the fittings.
Single-claw clamps have a clamp on one end and an exposed bolt on the other. Thread the bolt-end directly into the body of pumps, valves, or other high-vacuum components.
For technical drawings and 3-D models, click on a part number.
90° Elbow Connectors, Tube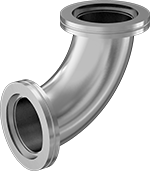 90° Elbow
Connector,
Tube
For
Tube
OD
Flange
OD

High-Vacuum


Flange
Size
High Vacuum
Connection
Type

No.

of Claw
Clamps
Required
Material

Max.


Vacuum
Each
2

1/2

"
3.74"
63
ISO-K
4
304 Stainless Steel
1 × 10 -9 torr @ 72° F
0000000
0000000
3"
4.33"
80
ISO-K
4
304 Stainless Steel
1 × 10 -9 torr @ 72° F
0000000
000000
4"
5.12"
100
ISO-K
4
304 Stainless Steel
1 × 10 -9 torr @ 72° F
0000000
000000
6"
7.09"
160
ISO-K
4
304 Stainless Steel
1 × 10 -9 torr @ 72° F
0000000
000000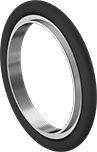 Ring
For
Tube
OD
For
Flange
OD
For


High-Vacuum


Flange Size
High Vacuum
Connection
Type

O-Ring

Inner
Ring

Max.


Vacuum

Max.




Temp.,




°F

Each
2

1/2

"
3.74"
63
ISO-K
Viton® Fluoroelastomer Rubber
304 Stainless Steel
1 × 10 -9 torr @ 72° F
400°
0000000
000000
3"
4.33"
80
ISO-K
Viton® Fluoroelastomer Rubber
304 Stainless Steel
1 × 10 -9 torr @ 72° F
400°
000000
00000
4"
5.12"
100
ISO-K
Viton® Fluoroelastomer Rubber
304 Stainless Steel
1 × 10 -9 torr @ 72° F
400°
0000000
00000
6"
7.09"
160
ISO-K
Viton® Fluoroelastomer Rubber
304 Stainless Steel
1 × 10 -9 torr @ 72° F
400°
0000000
00000


For
Tube
OD
For
Flange
OD
For


High-Vacuum


Flange Size
High Vacuum
Connection
Type
Material
Bolt
Material

Max.


Vacuum
Each

Double Claw

2

1/2

", 3", 4"
3.74", 4.33", 5.12"
63, 80, 100
ISO-K
Aluminum
18-8 Stainless Steel
1 × 10 -9 torr @ 72° F
0000000
00000
6"
7.09"
160
ISO-K
Aluminum
18-8 Stainless Steel
1 × 10 -9 torr @ 72° F
0000000
0000

Single Claw

2

1/2

", 3", 4"
3.74", 4.33", 5.12"
63, 80, 100
ISO-K
Aluminum
18-8 Stainless Steel
1 × 10 -9 torr @ 72° F
0000000
0000
6"
7.09"
160
ISO-K
Aluminum
18-8 Stainless Steel
1 × 10 -9 torr @ 72° F
0000000
0000