Measured in decibels (dB), volume ratings indicate how much noise equipment makes. Some common volume levels include a whisper @ 20 dB, a refrigerator @ 40 dB, a conversation @ 60 dB, and a light machine shop @ 90 dB. OSHA recommends hearing protection for exposure to 80 dB and greater.
Edge-Flow

Equipment-Cooling

Blowers
For use in tight spaces where other equipment-cooling blowers won't fit, air enters through the center of these blowers and then expels along the edges. They create a more concentrated stream of air than equipment-cooling fans to blow away the heat generated by electronic equipment, induction heaters, and high-wattage bulbs. Use them to keep heat-sensitive equipment such as electronic components cool.
Round blowers are also known as motorized impellers.
For technical drawings and 3-D models, click on a part number.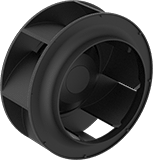 Round
Dia.

Dp.

Airflow,


cfm

Temp.




Range,

°F

Volume,


dBA
Motor


Speed,

rpm

Current,


A
Each

120V

AC,

Single

Phase,

50Hz/60Hz—

Wire Leads

7.48" (190 mm)
2.7" (68.5 mm)
305
-10° to 145°
60
2,450
0.7
00000000
0000000
8.66" (220 mm)
2.8" (71.12 mm)
530
-10° to 85°
74
2,700
0.4
00000000
000000

120V

AC,

Single

Phase,

60Hz—

Wire Leads

5.24" (133 mm)
3.6" (91.44 mm)
200
-10° to 100°
66
3,250
0.3
00000000
000000

230V

AC,

Single

Phase,

60Hz—

Wire Leads

8.66" (220 mm)
2.8" (71.12 mm)
530
-10° to 100°
74
2,700
0.9
00000000
000000