Pressure Switches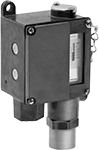 D
The traditional pressure switch. These power equipment, activate controls or alarms, or kick-off other actions when they reach a set pressure. Larger than compact pressure switches, they're easier to wire. These switches are single pole, double throw (SPDT) and can be installed to turn one circuit from off to on (normally open) or from on to off (normally closed).
NEMA 13 rated switches can be used in dirty, damp, and oily areas.
Switches with a cover protect against impact and keep dust off the switch.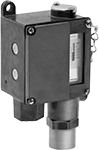 D
Style
Setpoint
Approximate Difference
Between Setpoint
and Reset Point

Max.


Continuous
Pressure

Max.




Short-Term




Pressure,

psi
Accuracy

Max.


Switching
Current
Process


Temp.,




°F

Connection
Material
For
Use
With
Environmental
Rating
Each

Screw Terminals

1/4

NPT Female Pipe Connection

D
25-180 psi
12 psi
200 psi
3,000
±2%
10 A @ 125 V AC
10 A @ 250 V AC
10 A @ 480 V AC
2 A @ 600 V AC
30 mA @ 250 V DC
-20° to 165°
416 Stainless Steel
Air, Hydraulic Fluid, Nitrogen, Oil, Water
NEMA 13

0000000
0000000
D
85-505 psi
22 psi
540 psi
3,000
±2%
10 A @ 125 V AC
10 A @ 250 V AC
10 A @ 480 V AC
2 A @ 600 V AC
30 mA @ 250 V DC
-20° to 165°
416 Stainless Steel
Air, Hydraulic Fluid, Nitrogen, Oil, Water
NEMA 13

0000000
000000
D
130-1,400 psi
65 psi
1,500 psi
7,000
±2%
10 A @ 125 V AC
10 A @ 250 V AC
10 A @ 480 V AC
2 A @ 600 V AC
30 mA @ 250 V DC
-20° to 165°
416 Stainless Steel
Air, Hydraulic Fluid, Nitrogen, Oil, Water
NEMA 13

0000000
000000
D
295-3,200 psi
180 psi
3,400 psi
7,000
±2%
10 A @ 125 V AC
10 A @ 250 V AC
10 A @ 480 V AC
2 A @ 600 V AC
30 mA @ 250 V DC
-20° to 165°
416 Stainless Steel
Air, Hydraulic Fluid, Nitrogen, Oil, Water
NEMA 13

0000000
000000
D
545-5,640 psi
240 psi
6,000 psi
12,000
±2%
10 A @ 125 V AC
10 A @ 250 V AC
10 A @ 480 V AC
2 A @ 600 V AC
30 mA @ 250 V DC
-20° to 165°
416 Stainless Steel
Air, Hydraulic Fluid, Nitrogen, Oil, Water
NEMA 13

0000000
000000