Measured in decibels (dB), volume ratings indicate how much noise equipment makes. Some common volume levels include a whisper @ 20 dB, a refrigerator @ 40 dB, a conversation @ 60 dB, and a light machine shop @ 90 dB. OSHA recommends hearing protection for exposure to 80 dB and greater.
Enclosure
Spot-Cooling

Fans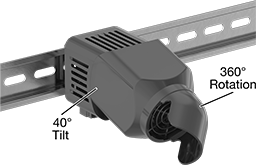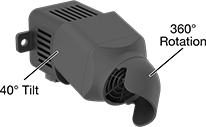 Surface Mount
Aim a stream of air at hot spots and equipment inside your enclosure to prevent overheating. Unlike other enclosure fans, they circulate air within your enclosure, so you don't need to cut out an air intake. For precise adjustment, tilt the housing and spin the fan head to direct air where you need it. Use a thermostat, timer, or switch to turn fans on and off.
DIN-rail-mount fans snap onto DIN rail in four orientations with a dual DIN clip. Surface-mount fans can be screwed into the enclosure in any orientation.
Fans meet American, Canadian, or European safety standards. They also meet UL 94 V-0, so if they catch fire, they self-extinguish within 10 seconds and won't spread the fire by dripping. Rated IP20, they're designed so fingers can't fit inside and get shocked.
For technical drawings and 3-D models, click on a part number.
Mount
Type

Airflow,


cfm

Volume,


dBA
Motor


Speed,


rpm

Current,


A
Depth
Width
Height
Blade
Material
Housing
Material
For DIN
Rail


Height,

mm
Mounting
Fasteners
Included
Mounting
Hole
Diameter
Environmental
Rating
Specifications
Met
Each

120-240V

AC,

Single

Phase,

50Hz/60Hz—

Spring-Clamp

Terminals

DIN Rail
16
44
12,500
0.2
5

3/8

"
2"
2

3/8

"
Plastic
Plastic
35
__
__
IP20

CE Marked, C-UL Recognized Component, UL Recognized Component, UL 94 V-0, VDE Certified
0000000
0000000
Surface
16
44
12,500
0.2
5

3/16

"
2"
2

3/8

"
Plastic
Plastic
__
No
0.24"
IP20

CE Marked, C-UL Recognized Component, UL Recognized Component, UL 94 V-0, VDE Certified
0000000
000000

24V

DC—

Spring-Clamp

Terminals

DIN Rail
16
44
12,500
0.2
5

3/8

"
2"
2

3/8

"
Plastic
Plastic
35
__
__
IP20

CE Marked, UL 94 V-0, VDE Certified
0000000
00000
Surface
16
44
12,500
0.2
5

3/16

"
2"
2

3/8

"
Plastic
Plastic
__
No
0.24"
IP20

CE Marked, UL 94 V-0, VDE Certified
0000000
00000