About Hazardous Location Environmental Ratings
Vacuum Cleaners for Combustible Metal Powder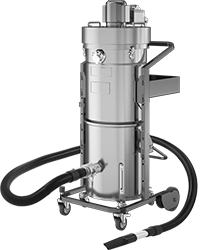 Simultaneously clean up and neutralize metal powders and other combustible dust, such as coal, plastic, and flour. These vacuums collect combustible dust in a bag, then submerge the bag in a water or mineral oil bath. This makes the dust inert. Because some metal powders emit gas when added to an immersion bath, the vacuums also have a degassing valve to vent any gas that builds up.
The vacuum and tools dissipate static, so they won't suddenly discharge electricity that could ignite your powder or nearby gases. The nozzle and crevice tool are small enough to use in compact spaces, such as 3D printer housings.
These vacuums are CSA certified for use in all NEC Class II environments—those where combustible dusts are present under normal operating conditions. In addition, they're also certified for use in Class I, Divisions 1 and 2, Group D environments, so they can be used in environments where flammable gases, vapors, and liquids with characteristics similar to propane can be found under normal operating conditions.
Cap.,




gal.

Ht.

Wd.

Dp.

hp

Current,


A
Voltage
Filter
Efficiency @


0.3

Microns

Dia.

Lg.,




ft.

Cord


Lg.,




ft.

Environmental
Rating
Includes
Each

Stainless Steel Tank

1

1/2

53"
22"
26"
1.3
9
120V AC
99.97%
1

1/2

"
10
50
NEC Class I Divisions 1, 2 Group D
NEC Class II Divisions 1, 2 Groups E, F, G
IEC Zone 1 Group IIA
IEC Zone 21 Groups IIIC, IIIB, IIIA
IP60
Crevice Tool, Curved-Tip Nozzle, Four Collection Bags, Round Brush
000000
0000000000
3D Printer

Portable Air Cleaners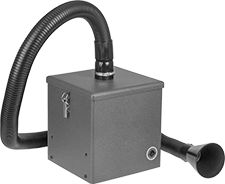 Draw particles and filament fumes away from open-frame 3D printers without cooling off printed parts. Unlike standard air cleaners, which create airflow strong enough to cool the print area and warp your parts, these low-airflow cleaners won't disrupt your print. A three-part filtering process keeps you from breathing harmful emissions: a prefilter traps large particles, then a combination HEPA and activated carbon filter captures both fine particles and fumes. These CE marked cleaners meet health, safety, and environmental protection standards for products.
Attach the included hose and funnel to the cleaner to pull fumes directly from your printer. These compact, lightweight cleaners fit into most work areas, and are quiet enough for office use. The powder-coated steel housing holds up over a long service life.
Airflow,


cfm
Volume

Current,


A
Voltage
For Inlet
Duct


Dia.

Ht.

Wd.

Dp.

Housing
Material

Lg.,




ft.

Material
Cord


Lg.,




ft.

Includes
Each
26
44 dBA @ 3 ft.
0.2
120V AC
2"
13

1/4

"
11

1/4

"
11"
Powder-Coated Steel
6
Plastic
6
Combination HEPA/Chemical Filter (Captures 99.99% of particles down to 0.03 microns), Disposable Prefilter
0000000
0000000
Cleaning 3D Printer Filaments

Clear your 3D printer's extruder with these cleaning filaments. The compound in the filaments bonds to leftover material, flushing it out as the compound passes through. Run a filament through your extruder before switching to a new printing job to remove old materials or colors that could bleed over or jam the printer. Even if you're not changing jobs, use these filaments to periodically purge residue from your system to keep it printing smoothly. At 8" long, each filament is sized for a single use, so there's no need to cut them to size.