Automatic Leveling Probes for 3D Printers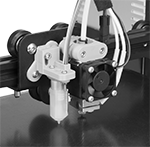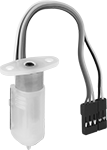 Trace the ups and downs of your print surface. These probes automatically adjust your printer's head to be level with the surface—even if the surface isn't level. By touching and mapping points along your print surface, these probes make sure that your printer's head will be close enough for your filament to properly adhere to previous layers, but far enough away so it doesn't scrape against your printing surface.
Compared to alternatives such as manual leveling and noncontact sensors, these probes offer greater performance and flexibility. Manual leveling is slower and leaves more room for error, while these probes are faster and more precise. And while noncontact sensors can reflect off glass surfaces to give inaccurate readings, these probes work on all print surfaces—any material, heated or non-heated.
Probes are compatible with most FFF (Fused Filament Fabrication) printers. During setup, you may need to update the firmware or adjust your mounting setup so probes are perpendicular with your printing surface.
Software
Compatibility
Servo
Connection

Z Connection

Accuracy
Material

Wd.,


mm

Lg.,


mm

Dp.,


mm
Cable


Lg.,


mm

Current,


mA
Input
Voltage
Mounting
Hardware
Included
Includes
Each
Marlin, Repetier, RepRapFirmware, Smoothieware
3 Pin
2 Pin
±0.005 mm
Polycarbonate Plastic
18
46.6
11.5
150
15
5V AC/5V DC
Yes
(10) Crimp Terminals
(2) 1-Pin Housing Shells
(2) 2-Pin Housing Shells
(2) 3-Pin Housing Shells
Jumper Cap
0000000
000000