Chisels for Wood Flooring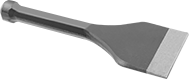 A

B
Use the wide blades on these chisels to make rough cuts, trim wood, and remove the tongue from floorboards.
Style A are also known as electrician's chisels. They have an oversized end that's easier to hit than a standard end.
Style B has a long shank for leverage and reach. It's also known as a clapboard chisel.