Heavy Duty Bar Clamps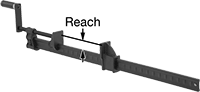 Hold up to five times the capacity of standard bar clamps. Pull the lever to slide the clamping arm along the bar; release to lock in place. Use the handle for final tightening. These are also known as I-beam clamps.
For technical drawings and 3-D models, click on a part number.
Max.

Min.

Reach
Holding


Capacity,

lbs.

Body
Material
Each
24"
0"
1

13/16

"
6,000
Steel
000000
000000
30"
0"
2"
5,100
Steel
000000
00000
36"
0"
1

13/16

"
6,000
Steel
000000
00000
48"
0"
1

13/16

"
6,000
Steel
000000
00000
60"
0"
1

13/16

"
6,000
Steel
000000
00000
72"
0"
1

13/16

"
6,000
Steel
000000
000000
84"
0"
2"
5,100
Steel
000000
00000
96"
0"
2"
5,100
Steel
000000
00000