Impact-Resistant

Ultra-Strength

Carbon Fiber Sheets with Kevlar Core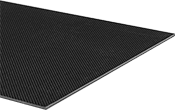 Color:

Black
Temperature

Range:

-100° to 190° F

Tensile

Strength:

177,

000 psi

(Excellent)

Impact

Strength:

Not Rated

Hardness:

Not Rated

For Use

Outdoors:

No
Often used to build frames and structures, these lightweight sheets combine the strength and stiffness of carbon fiber with the impact resistance of Kevlar. With carbon fiber on the outer layers, these sheets are extremely difficult to bend—they're nearly as stiff as pure carbon fiber. The carbon fiber layers also provide good strength under tension, comparable to 6061 aluminum. Sandwiched between the carbon fiber layers of these sheets is a Kevlar core. Known for its toughness, the Kevlar core helps prevent sheets from failing under a variety of stresses, such as punctures, cuts, impact, and wear. The Kevlar core also has a lower density than carbon fiber, making these sheets even lighter than sheets made from carbon fiber alone.
Sheets with 0.09 in. thickness have thicker layers of carbon fiber, making them stiffer than those with 0.06 in. thickness.
For technical drawings and 3-D models, click on a part number.